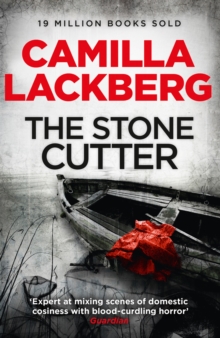 The Stonecutter
Paperback
Description
The third psychological thriller from No 1 bestselling Swedish crime sensation Camilla Lackberg.
Irresistible for fans of Stieg Larsson and Jo Nesbo. The remote resort of Fjallbacka has seen its share of tragedy, though perhaps none worse than that of the little girl found in a fisherman's net.
But this was no accidental drowning... Local detective Patrik Hedstrom has just become a father.
It is his grim task to discover who could be behind the murder of a child both he and his partner Erica knew well. What he does not know is how the case will reach into the dark heart of Fjallbacka and tear aside its idyllic facade, perhaps forever.
Information
Format: Paperback
Pages: 480 pages
Publisher: HarperCollins Publishers
Publication Date: 01/03/2011
Category: Crime & mystery
ISBN: 9780007253975
Other Formats
EPUB from £4.74
eAudiobook MP3 from £11.59
Free Home Delivery
on all orders
Pick up orders
from local bookshops
Reviews
Showing 1 - 5 of 9 reviews.
Previous | Next
Review by bhowell
16/06/2015
I think "The Stone Cutter" is better than the previous two in this series or perhaps the translator is improving. Her two previous books had clunky English with too much slang that somehow was not very realistic. Her characters seem a little more intelligent in this book. I have ordered Gallows Bird and hopefully all 7 of this series will ultimately be translated to English.
Review by ChrisSterry
16/06/2015
A skilful plot which kept me wanting to read on. The gradual convergenece of the historical story, beginning in the 1920s with the present day time line was well done, and added to the suspense. I did work out who did it just before the end. But the desire to rush on to the end was tempered by the sheer, untempered misery and unhappiness of every character in the book. The bleak, rainswept lanscape of a Scandinavian autumn was a good metaphor for the book as a whole. I enjoyed the book enormously, but I am going off now to read the Biblical book of Ecclesiastes to cheer myself up!
Review by cathyskye
16/06/2015
First Line: The lobster fishery was not what it once was. Detective Patrik Hedström and Erica Falck are celebrating the birth of their first child... or they would be if Erica weren't on such an emotional roller coaster. Patrik loves mother and baby dearly, but lately he's glad that work takes him out of the house-- even if it's the suspicious drowning death of a little girl he and Erica knew well. The more people Patrik interviews, the more clues he puts together, the more he becomes aware of the fact that a long-buried secret is lurking in the fishing village of Fjällbacka, Sweden.Camilla Läckberg's series featuring Patrik and Erica is a favorite of mine, even when I put the clues together quickly, as I did in this book. The reason for this is the fact that Läckberg has created a book (and a series) that goes well beyond a mystery that must be solved. The mystery does play an important part in The Stonecutter. The investigation into the death of the little girl is absorbing, and it is interspersed with even more intense chapters concerning a man and wife from several decades in the past. These two separate stories intersect and prove what one character tells another: "I've thought about this, and we can't keep living with a secret. Monsters live in the dark." Quite scary monsters, as it turns out.Even though I did deduce the killer's identity quickly, I wasn't put off one little bit. This is because the home life of Patrik and Erica is central to the book. They are intelligent, likable characters that are easy to care about, and often the problems that they are dealing with in their private lives find themselves woven into the ongoing investigations. The theme of coping with motherhood is integral to the book, and Erica as a new mother, has a role to play in the story's outcome. Even Erica's sister, a mother in an abusive relationship, is heard as a faint and troubling chorus in the background. I recommend Läckberg's series for its setting in rural Sweden, for its intricately plotted mysteries, but most of all for its cast of meticulously drawn characters. It's Läckberg's characters that will keep me returning book after book after book.
Review by magentaflake
16/06/2015
A better story than the Preacher. Detective Hedstrom has just become a father when a young girl is found drowned, murdered. Interwoven is another story which is connect4ed to the murder. Found it all too contrived.
Review by martinhughharvey
16/06/2015
Another Swedish thriller author.Decent enough detective story with a plot twist that did take me near to the end of the book to figure out. Enjoyable reading and not too complex. Most detective stories seem to have a protagonist detective that has quirks that add to the book - this didn't which I missed.Thanks to my sister for lending it to me.
Also in the Patrik Hedstrom and Erica Falck series | View all