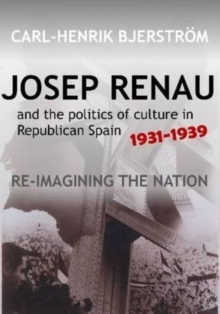 Josep Renau & the Politics of Culture in Republican Spain, 19311939 : Re-imagining the Nation
Paperback / softback
Description
At once pragmatic and utopian, the Spanish artist, critic and political activist Josep Renau engaged in multiple ways in the volatile cultural conflicts of interwar Europe, which converged on Spain in the Second Republics battle to modernise both politics and society (19311939).
Renau used his idiosyncratic artwork and agit-prop, inspired by the Constructivists and the German avant-garde, to critique the timidity of the Republics first democratising reforms.
To envision an alternative, he launched arts organisations and magazines whose goal was to begin the work of redefining Spanish national self-image through cultural innovation.
The ideas Renau developed would soon come to shape government policy during the war in Spain (193639) when Renau served as the Republics Director General of Fine Arts.
In power, Renau was a tireless cultural innovator, whose initiatives not only helped mobilise tens of thousands of Republicans but also shaped the new collective imaginaries emerging from the conflict.
This book offers the first interdisciplinary and contextualised analysis of the relationship between art and politics in Renaus work at the time of Spains pivotal attempt to pursue democratic forms of modernisation. It traces the connections between Renaus political goals and the specific visual strategies he deployed, providing a comprehensive historical assessment of his attempts to turn protean theory into effective practice.
In spite of the Republics military defeat, Renaus work, and the wartime cultural programme he inspired and impelled, offer fertile material for debates on the dynamic relationship between culture and democracy in ways which remain as relevant and urgent today as they were when Renau took up the challenge.
Information
Format: Paperback / softback
Pages: 272 pages, b/w & colour illus
Publisher: Sussex Academic Press
Publication Date: 14/06/2016
Category: European history
ISBN: 9781845198077
Free Home Delivery
on all orders
Pick up orders
from local bookshops