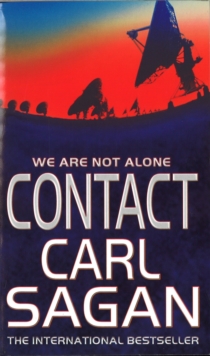 Description
At first it seemed impossible - a radio signal that came not from Earth but from far beyond the nearest stars.
But then the signal was translated, and what had been impossible became terrifying.
For the signal contains the information to build a Machine that can travel to the stars.
A Machine that can take a human to meet those that sent the message. They are eager to meet us: they have been watching and waiting for a long time. And now they will judge.
Information
Format: Paperback
Pages: 432 pages
Publisher: Little, Brown Book Group
Publication Date: 18/09/1997
Category: Science fiction
ISBN: 9781857235807
Other Formats
EPUB from £5.99
eAudiobook MP3 from £12.56
Free Home Delivery
on all orders
Pick up orders
from local bookshops
Reviews
Showing 1 - 1 of 1 reviews.
Review by PghDragonMan
16/06/2015
Forget the movie version, this is the real deal. Don't get me wrong, I thought the movie was very well done, but the book goes much further, especially with the ending scenes that are essential to closing the story.The premise of the story, Earth finally receives a message from a source outside our planet, is certainly within the realm of possibility. Carl Sagan spent the last years of his life reminding us of the "billions and billions" of stars in the galaxy and by virtue of statistics alone, there is probably at least one other planet out there with recognizable intelligent life on it.What follows next is a semi-serious, semi-satirical analysis of how the Earth bound governments would react to following a set of directions from this other intelligence to build a means of physical contact with them. When complete, we don't exactly meet angelic beings from Heaven, but we learn they are most certainly not monsters bent on colonizing Earth either. We are also left with more questions than answers.In the final chapter of the book, we don't really learn the answer, but we do get a glimpse into Sagan's personal beliefs. Sagan, and many other scientists, have no trouble with reconciling Science coexisting along side Religion and in fact see the order of Science as the proof of some Higher Consciousness governing all this. I find Sagan's mathematical proof maybe a little on the edge of reality, but after all, this is a Science Fiction story; pushing the envelope of believability is quite acceptable under these circumstances.Very enjoyable reading and a nice blend of science and science fiction. The characters are also well rounded and their personalities contribute to the storyline. This story should appeal to general fiction fans and some technical non-fiction fans as well as science fiction fans.