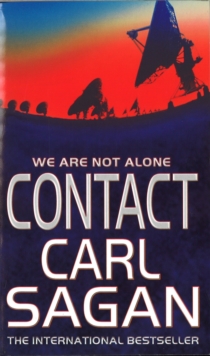 Contact
Paperback / softback
Description
THE INTERNATIONAL BESTSELLING CLASSIC NOVEL OF FIRST CONTACT The Pulitzer Prize-winning author of Cosmos and renowned astronomer Carl Sagan's bestselling novel about the discovery of an advanced civilization in the depths of space remains the 'greatest adventure of all time' (Associated Press). WE ARE NOT ALONE . . . At first it seemed impossible - a radio signal that came not from Earth but from far beyond the nearest stars.
But then the signal was translated, and what had been impossible became terrifying.
For the signal contains the information to build a Machine that can travel to the stars.
A Machine that can take a human to meet those that sent the message. They are eager to meet us: they have been watching and waiting for a long time. And now they will judge. ***Also a major motion picture starring Jodie Foster and Matthew McConaughey***'Stunning and satisfying' Los Angeles Times 'An astonishingly exciting, precise and involved book' Sydney Sunday Telegraph'The range and depth of ideas is quite uncommon' New York Times Book Review 'It is pleasurable and reassuring to read a popular author in whom the observable and scientifically imagined universe inspires excitement, humour, love, awe' Newsday 'Sagan's informed and dramatically enacted speculations into the mysteries of the universe... make Contact an exciting adventure' Publishers Weekly 'Like a good mystery, Contact keeps us curious to the end . . . Ingenious and satisfying' Newsweek 'A splendid story whose appeal is universal' Yorkshire Post
Information
Format:Paperback / softback
Pages:432 pages
Publisher:Little, Brown Book Group
Publication Date:16/10/1997
Category:
ISBN:9781857235807