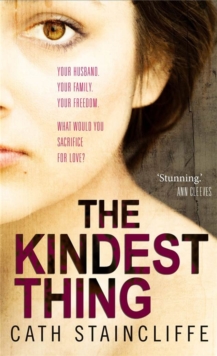 The Kindest Thing
Paperback
Description
A love story, a modern nightmare and an honest and incisive portrayal of a woman who honours her husband's wish to die and finds herself in the dock for murder. When Deborah reluctantly helps her beloved husband Neil end his life and conceals the truth, she is charged with murder.
As the trial unfolds and her daughter Sophie testifies against her, Deborah, still reeling with grief, fights to defend her actions.
Twelve jurors hold her fate in their hands, if found guilty she will serve a life sentence.
Deborah seeks solace in her memories of Neil and their children and the love they shared.
An ordinary woman caught up in an extraordinary situation. A finely written page-turner, compelling, eloquent, heart-breaking.
The Kindest Thing tackles a controversial topic with skill and sensitivity.
A book that begs the question: what would you do?
Information
Format: Paperback
Pages: 288 pages
Publisher: Little, Brown Book Group
Publication Date: 27/05/2010
ISBN: 9781849012089
Free Home Delivery
on all orders
Pick up orders
from local bookshops
Reviews
Showing 1 - 3 of 3 reviews.
Review by nicx27
16/06/2015
This is an emotive book, the story of Deborah who assists her husband Neil to commit suicide. Neil has Motor Neurone Disease and has decided that he wants to die on his own terms. Deborah reluctantly assists, and finds herself in prison, awaiting trial for his murder.The vast majority of this book covers Deborah's trial, with flashbacks to how she met Neil, his diagnosis, the birth of their children, and other family matters. However, this is a surprisingly quick and easy read, despite the subject matter, and one which I would definitely recommend.Cath Staincliffe is certainly an accomplished writer, and I think she has hit just the right tone with this book. It's not excessively maudlin, but it definitely makes you think about what you would do in the same situation. I hope she writes more books of this calibre.
Review by Annakin
16/06/2015
I was pleasantly surprised by this novel. Not the head on discussion of the 'right to die' I was expecting, more of a heart-felt, honest exploration of the impact an assisted suicide could leave on a family. Written in the first person, this novel shares the emotional (and legal) journey of Deborah, who helps her husband Neil end his life after he is diagnosed with Motor Neurone Disease.Staincliffe uses flash-backs to piece our understanding of Deborah together parallel to her trial, in which she must justify her actions to others whilst searching for a reassurance herself that it was the kindest thing to do. The repeated time changes are controlled well and not confusing, capturing a sense of Deborah's mixed experience rather than clouding it. Poignant, thought-provoking, and very sensitive throughout, a book to get caught up in and read all at once.
Review by herschelian
16/06/2015
What would you do if you were in her shoes? That was the question I kept asking myself all through this extremely thought-provoking book, and it is a question that has lingered in my mind after finishing it. Deborah and Neil have been together for 30 years, married for 24 of those years, and have two teenaged children when Neil is diagnosed with Motor Nurone Disease. As his condition takes hold he determines that he will be the one who chooses when to die, and he eventually persuades Deborah to assist him. As assisted suicide is illegal, they plan carefully as to how he will end his life. Some weeks after his death Deborah is charged with his murder. The story is told by Deborah as she is in prison and then during her trial, with flash-backs to their life together, as students, as new parents, as lovers. Deborah had not comprehended how Neil's choice would affect her, their children, and his own parents. Leaving aside religious prohibitions, if some one you love is begging you to help them is it more loving to agree to help or to refuse? Is there a right answer?Despite the storyline, this is not a depressing book, and is so well written that the characters come to life. It would be an excellent choice for a bookclub as it would provoke so many questions and would lead to really animated discussion.