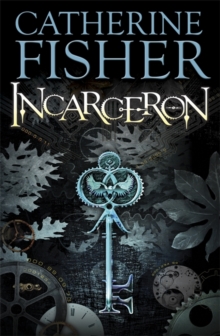 Description
Incarceron - a futuristic prison, sealed from view, where the descendants of the original prisoners live in a dark world torn by rivalry and savagery.
It is a terrifying mix of high technology - a living building which pervades the novel as an ever-watchful, ever-vengeful character, and a typical medieval torture chamber - chains, great halls, dungeons.
A young prisoner, Finn, has haunting visions of an earlier life, and cannot believe he was born here and has always been here.
In the outer world, Claudia, daughter of the Warden of Incarceron, is trapped in her own form of prison - a futuristic world constructed beautifully to look like a past era, an imminent marriage she dreads.
She knows nothing of Incarceron, except that it exists.
But there comes a moment when Finn, inside Incarceron, and Claudia, outside, simultaneously find a device - a crystal key, through which they can talk to each other. And so the plan for Finn's escape is born ..."I loved the book.
It's a crazy, cool, dark world ...it's a great story." -- Taylor Lautner, star of the Twilight movies
Information
Format: Paperback
Pages: 464 pages
Publisher: Hachette Children's Group
Publication Date: 01/05/2007
Category: General
ISBN: 9780340893609
Free Home Delivery
on all orders
Pick up orders
from local bookshops
Reviews
Showing 1 - 5 of 23 reviews.
Previous | Next
Review by rj_anderson
16/06/2015
I love this book with a mad passion. I could hardly even tell you why, except that the concept of the living and sentient prison that's a whole world in itself is amazing, and the blend of the fantastical/fairy tale/historical and the high-tech aspects of Claudia's world fascinated me, and the Warden reminds me of Jack Bristow from <i>Alias</i> with his grim aspect and habit of keeping dark secrets mingled with a fierce (if sometimes oddly expressed) love of his daughter, and Jared is GUH and Jared/Claudia makes me all kinds of happy even though it's only lightly implied and I have no guarantee it's going to go that way.Boy, that was an incoherent review. But you get the idea.
Review by sensitivemuse
16/06/2015
The world building and concept of the book was very interesting. It took me by surprise when I found out all is not what it seems Outside. However, it disappointed me as well. It never occurred to me that it was in a futuristic setting and that little surprise took me a while to get used to. I did like how Incarceron had different types of scenery and settings, literally it was a little world of its own. That was interesting and a fascinating read. The political intrigue within the Haavarna Court was interesting and fun to read. I liked how Claudia managed herself through all the mind games yet still managing to keep herself intact and alive. I really did enjoy reading about Claudia. She had the wits and the determination to keep going. Finn, I didn't really enjoy reading so much. I'm not sure why, he just didn't really grow on me as a character. Keiro on the other hand was a much more entertaining read even though he had flaws that made him look like a total complete jerk. He was more exciting to read about than Finn.Despite these well done characters, and the concept of the story was interesting and different, the story started off a little too slowly for me, and it got confusing at times. What frustrated me was, there were so many questions I had, only to find out after reading 448 pages, that none of the questions really were answered and you're back to square one. So not only was the book dry, you're left with a wide open ending. Although the pace did pick up in the last half of the book, this could have definitely been a better read. I'm really not sure why it took so long for the plot to move forward, but those that want a quick story won't find it here. Am I going to read the sequel? yes. I did not read 448 pages for nothing. Call me stubborn, but despite slow movement of the plot in the book I still want to know what happens. If it weren't for such well written characters I probably would not have continued reading this book until the end. However, I do encourage those that want something different to read to pick this up. It's most certainly something I haven't read before.
Review by alyson
16/06/2015
Well, I just can't decide if I loved this, was confused by it, annoyed that I will have to wait a year to read the sequel... I have been thinking about it quite a bit for the last few days, so it obviously made an impact. I guess that means I liked it. 4 stars it is!
Review by Ameliaiif
16/06/2015
**If <i>Incarceron</i> was a school subject, it would definitely be science. I love science, I find it fascinating, but I'm not very good at it… kind of like this reading experience! First of all, this book is fascinating, captivating, the type of story that sticks with you to the point that you're forgetting everything else you have to do because you're so obsessed over what happens next! But, on the other hand, it's really confusing, and to be honest, I had a hard time digesting all the intricacies of the plot. I would respectfully point out that this book is way closer to "Science Fiction/Fantasy" than just regular Fantasy – be prepared for lots of technology and science. Okay, so in a nutshell – how about I go ahead and set the stage for you, and maybe save your brain some racking? I have no idea if this is supposed to be Earth or if this is an entirely fictional universe, but whatever it is, it's sometime in the future after a major war has taken place. Sounds pretty Dystopian 101, right? Well, this society decides to halt progress of any kind (technological, mostly) and return to a simpler way of life; thus the society is 18th century based, with some contraband technology thrown in (<i>sidenote: I really, really do love this concept! I love the blending of the old with the new! COOL!</i>) Meanwhile, the powers that be created Incarceron – an experimental "prison" that they populated with criminals, political prisoners, and all other kinds of undesirables… (I say "prison" because it's not the bars-and-cells kind that you see in <i>Man in the Iron Mask</i> or <i>Count of Monte Cristo</i>...it's more like a hellish society) One of these prisoners, a 17-year-old boy named Finn, truly believes that he does not belong in Incarceron: he is convinced that he came from Outside. When he finds a Key that allows him to communicate with a girl on the outside, Finn launches a desperate escape plot all the while attempting to unravel the secrets of his past. Plot: From page 1, <i>Incarceron</i> hits the ground running! I can definitely say that there are no dull points in this riveting, action-packed story. I think, though, that the fast-paced action comes at the expense of character and story development. There's so much action in this story, but there's not a lot of explanation and so a lot of the time there's confusion as to what's going on and how things relate to each other. It seems like you learn things in fragments. But hey, this book is incredibly fast-paced and so you don't stay in the dark for long. :D Characters: I really liked the two main characters, Finn and Claudia, and I thought that their respective storylines were pretty interesting. I loved seeing their separate lives start to blend and was definitely cheering for them the whole way! As usual, I'm divided on the supporting characters.** Because there's so much action in this 400 book, <b>characterization seemed to take a backseat</b>. That's not to say that characters weren't developed; they just didn't really seem explored. <i>Incarceron</i> seems like a very psychological novel, and I honestly could have done with more in-depth character exploration, especially when it came to relationships and how characters interacted with each other. Claudia/Jared/the Warden are very well done, and I felt like I really understood their part of the story and what they were going through, but I didn't feel like I got as much from the characters inside Incarceron. For everything that happened to Finn, I would have liked more psychological exploration. And Finn and Keiro's weird, warped relationship confused me – Keiro was just aggravating through and through. I don't like characters like him!So to summarize: VERY GOOD characters – they're all interesting and useful to the plot (no "filler" characters, in other words)…SOMEWHAT LACKING on how these characters are explored and their emotional development. Amelialand Rating-V: Yeah, so this is a dystopian science fiction book that, even though marketed to children/YA audiences, has a great deal of violence. Hey, most of the story takes place in a prison, though, so it's not really out-of-place. -S: there's no sex in here, but I did catch a couple references to it, just so you know…-L: I was actually surprised at the language in here. Nothing "hardcore" but still...If this book was a movie, I think it would be a high PG-13. It's not quite bad enough to be an 'R,' but it's pretty intense. This book was definitely fun to read, and also fun to figure out. Yeah, I had fun figuring everything else out! This book also got me thinking about a lot of things, and by the end of the story, I was really thinking about certain things: can everybody escape, and who must stay behind? Can everybody be saved? Does everybody deserve to be saved? See what happens when books make me think?! I love it! I've got <i>Sapphique</i> to read next, and I can't wait! I want to find out what happens to Finn, Claudia and Incarceron! Final Rating: 4.3 – in between my 4-and-4.5 star rating. I know, I can't make up my mind! Incarceron is an awesome plot with great characters, but it could have been better explained and explored.
Review by lemuralley
16/06/2015
Couldn't get through this one. From reviews I expected something exciting like The Hunger Games, but this just couldn't keep my attention.