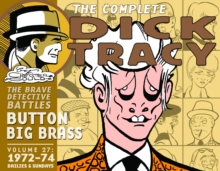 Complete Chester Gould's Dick Tracy Volume 27
Hardback
Description
With one end of a rope around Tracy's neck and theother end attached to an innocent young boy hanging out of a highrise window,Chester Gould proves that he can still invent unique death traps for thesharpjawed detective.
The tension and excitement continue throughout the storiescollected in this book, as Tracy and his team are led on one relentless chaseafter another. And just when they think they've captured the criminal mastermindknown as "Button," he escapes...and escapes again!
Also featured are Button'ssister named Hope Lezz the knifethrowing exvaudevillianKeenotheGreat a con man named Big Brass, who peddles atomic noserings and a seemingly demure grandmother named Florabelle, who dresses upher longdead brother's skull with a wig, hat, shirt, tie, and cigar...and justhappens to keep a razorsharp guillotine in her basement.
Things never slow downin Dick Tracy Volume 27, which reprints all dailies and Sundays from September28, 1972 to July 6, 1974. "Chester Gouldintroduced a new hardhitting type of realism [that] marked a radical andhistoric departure: the comics were no longer just funny." Jerry Robinson, TheComics "This black and white moralityplay of Good vs.
Evil was famously haunted by its gallery of grotesque and aptlynamed villains like Mumbles, the Brow and Flattop.
Each of their faces wasliterally a "map," a map of hell, indicated by the most peculiar configurationof lines the artist could manage.
What great cartooning...it's time to build newbookshelves to welcome one of America's singular artistic achievements." ArtSpiegelman Ongoing series that reprints thecomplete comic strips by Chester Gould from 1931 1977 in 29 definitivevolumes.
Information
Format:Hardback
Pages:296 pages
Publisher:Idea & Design Works
Publication Date:14/01/2020
Category:
ISBN:9781684055739