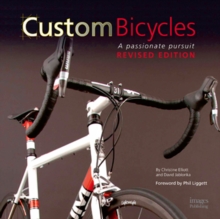 Custom Bicycles: A Passionate Pursuit
Hardback
Description
A book featuring bicycle makers from the USA, the UK, Italy, Germany, France, and Australia. Cycling has never lost its appeal. Alongside mass-produced models, the craftsmanship of bespoke bicycle makers has emerged to satisfy the passion of people who ride bikes as a means of daily transport, as a sport and for recreation.
This book by passionate cyclists Christine Elliott and David Jablonka is the product of a worldwide search for the most influential custom bicycle makers on the planet.
The result is a presentation of a wonderful collection of expertly honed, human-powered machines, built by some of the most creative bicycle makers in the world.
It highlights the range of techniques, materials, design elements, and dedication that go into producing a custom handmade bicycle.
It is guaranteed to take you on the ride of your life. Bicycle brands featured include: Anderson Custom Bicycles, Baum Cycles, Bilkeny Cycle Works, Black Sheep Bikes, Bob Brown Cycles, Bohemian Cycles, Bruce Gordon Cycles, Calfee Design, Columbine Cycle Works, Crisp Titanium, Cycles Alex Singer, Cyfac, Davidson Handbuilt Bicycles, Don Walker Cycles, GURU Bikes, Independent Fabrication, Ira Ryan Cycles, Jeff Jones Custom Bicycles, Keith Anderson Cycles, Kirk Frameworks, Kish Fabrication, Llewelyn Custom Bicycles, Lynskey, Marschall Framework, Moots, Naked Bicycles and Design, Pegoretti, Richard Sachs Cycles, Roark Custom Titanium Bicycles, Robin Mather, Signal Cycles, Steve Potts Bicycles, Strawberry, Sweet Pea Cycles, Vanilla Bicycles, Vendetta Cycles, Vicious Cycles, Wolfhound Cycles. AUTHOR: Based in Melbourne, Australia, Christine Elliott and David Jablonka share a love of cycling that has taken them on cycling trips through Italy, Greece, and the USA, believing that cycling is a wonderful way to experience the sights, sounds, and aromas of another country. SELLING POINTS: - New, revised and expanded edition of an established best seller which includes, new makers, entries and all new photography. - 'Custom Bicycles' features bicycle makers from the USA, the UK, Italy, Germany, France and Australia who specialise in bespoke, hand-crafted designs - The book includes a foreword by Phil Liggett, the voice of the legendary man behind the English-language broadcasts of the Tour de France 400 col.
Information
Format:Hardback
Pages:240 pages, 346 colour illustrations, 1 b/w
Publisher:Images Publishing Group Pty Ltd
Publication Date:15/08/2012
Category:
ISBN:9781864704945
Also by Christine Elliot