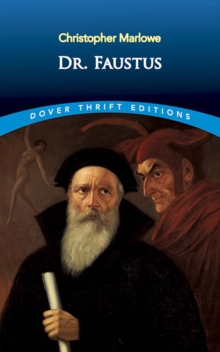 Information
Format: Paperback
Pages: 64 pages
Publisher: Dover Publications Inc.
Publication Date: 20/10/1994
Category: Plays, playscripts
ISBN: 9780486282084
Other Formats
Paperback from £4.55
Hardback from £25.89
PDF from £9.49
Paperback / softback from £6.45
EPUB from £17.08
Free Home Delivery
on all orders
Pick up orders
from local bookshops
Reviews
Showing 1 - 5 of 10 reviews.
Previous | Next
Review by heidilove
16/06/2015
fun, witty, and all that marlowe has to offer.
Review by eldatari
16/06/2015
Even if you haven't read this play, you're probably familiar with the tale of Dr. Faustus. The fact that this tale has proven so enduring over the centuries is due in good part to the power of this text. Reading this play, it's hard to believe that it was written back in the 1500s. Marlowe is every bit as good as his contemporary, William Shakespeare.
Review by Smiler69
16/06/2015
This short play is based on a classic German legend about Faust, a scholar who makes a deal with the devil where he proposes to sell give his soul in exchange for unlimited knowledge and pleasure. In Marlowe's interpretation, Doctor Faustus asks the Devil for twenty-four years of life during which time the demon Mephistopheles will do his bidding, in exchange for his soul which will spend eternity in the fires of hell, and he signs his pact with Lucifer in his own blood to finalize the deal. Throughout the play, we see Doctor Faustus being pulled between his craving for unlimited power and his yearning for salvation, with the Good Angel urging him to repent and the Bad Angel encouraging him to fulfill his promise. Faustus chooses to keep to the path of sin for the privileges that power affords him, such as the ability to perform magic, and is taken to hell by Mephistopheles when his time on earth is expired. Of course, there is much more that can be said about this play, but I am not a scholar and have found that Wikipedia gives a very interesting—and thorough—analysis of it. I did have a little bit of trouble understanding some of the old English and numerous Latin quotes and expression, although these were translated in my annotated version. I was expecting a very serious and dark approach to this story, but was pleasantly surprised to discover that it was in fact treated with quite a lot of humour. I initially became interested in the legend of Faust when I was reading [The Master and Margarita], which is why I got this book, forgetting all along that Bulgakov had based himself on Goethe's [Faust], written much later, but am glad I did read the Elizabethan classic interpretation first which will give me something to compare Goethe's version to when I get to it.
Review by Brent.Hall
16/06/2015
A must read, it's a classic
Review by mstrust
16/06/2015
Doctor Faustus doesn't believe in hell, and so has no fear of conjuring a demon. Faustus wants to sell his soul, which he does, in return for fame, status and knowledge. He quickly begins moving in circles with the Pope and the Holy Roman Emperor, able to conjure Alexander the Great and Helen of Troy and make himself invisible so he can punch people. His plan is to spend his allotted time being rich, famous and devious, then repent in order to save his soul from Lucifer.For the Elizabethan audience, this play must have been like nothing else. There are devils, the Pope and his Cardinals, Alexander killing his foe Darius, and whores. The theatergoer must have left feeling they had gotten their money's worth. Marlowe was the bad boy of playwrights and this play shows why he had that reputation.The big surprise for me was the amount of Latin spoken, which is a lot. I don't know how much Latin the average person would have understood, especially since illiteracy was the norm, but Marlowe certainly flaunts his fluency in it.
Also in the Dover Thrift Editions series | View all