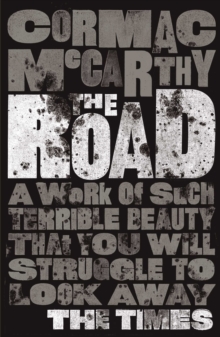 Description
'The first great masterpiece of the globally warmed generation.
Here is an American classic which, at a stroke, makes McCarthy a contender for the Nobel Prize for Literature' Andrew O'Hagan A father and his young son walk alone through burned America, heading slowly for the coast.
Nothing moves in the ravaged landscape save the ash on the wind.
They have nothing but a pistol to defend themselves against the men who stalk the road, the clothes they are wearing, a cart of scavenged food - and each other. 'McCarthy conjures from this pitiless flight the miracle of unswerving humanity.
Gripping beyond belief' Chris Cleave, Sunday Telegraph 'One of the most shocking and harrowing but ultimately redemptive books I have read.
It is an intensely intimate story. It is also a warning' Kirsty Wark, Observer Books of the Year 'So good that it will devour you.
It is incandescent' Daily Telegraph 'You will read on, absolutely convinced, thrilled, mesmerized.
All the modern novel can do is done here' Alan Warner, Guardian 'A masterpiece that will soon be considered a classic' Herald
Information
Format: Paperback
Pages: 320 pages
Publisher: Pan Macmillan
Publication Date: 01/01/2010
ISBN: 9780330513005
Other Formats
Paperback from £6.85
EPUB from £7.19
PDF from £10.44
Free Home Delivery
on all orders
Pick up orders
from local bookshops
Reviews
Showing 1 - 5 of 5 reviews.
Review by DRFP
16/06/2015
A decent book but not the harrowing tale I was led to be believe it would be. Sparse prose is all very nice but McCarthy's sparse <i>characterization</i> is a slight issue. No doubt the story is a sad one but it lacks impact because McCarthy does so little with his two leads. The majority of the author's minimalist writing also stands in stark contrast to the sudden and quite frequent flourishes of prose that he indulges in. It's quite jarring in my opinion. The ending is also something of a cop-out, I thought. Sad, yes, but needlessly blunted. Not a bad book by any means but one which falls short of its potential.
Review by shequiltz
16/06/2015
This is a post-apocryphal novel about a father doing anything and everything to keep his son and himself alive while maintaining a sense of ethics and goodness. His son continually asks if they are the good guys and the answer is always yes though some of the decisions the father makes are heart-wrenching. It's a gloomy and hopeless story but the writing is phenomenal. Read this if you love a good story, but not if you're depressed by such stories.
Review by coleyhatfield
16/06/2015
I loved how visual the book was. It really captured my heart
Review by Marlene-NL
16/06/2015
Wow. what a book, what a story. So depressing, so black,(well grey is more the colour that comes to mind) but so fantastic. I could not stop reading.. A scary book because I can picture the end of the world like this. There are now words to describe this book. Loved the words he used. At first I had to get into it cause some words were strange to me but some passages were so good, wow. Highly recommend. Wish my English was better so I could explain better why I liked this book so much although i wonder that even if I could, not so sure if i would be able to. This is a book you will not forget easily.
Review by bposinger
16/06/2015
Very interesting post-apocolyptic book. Though I did not get too much out of it... It did inspire some curious thoughts and interesting topics to discuss, though it did not quite stick with me.