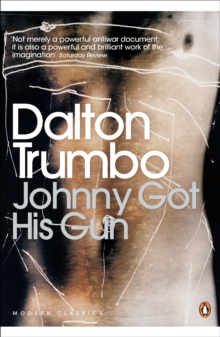 Johnny Got His Gun
Paperback
Description
It was the war to end all wars, the global struggle that would finally make the world safe for democracy - at any cost.
But one American soldier has paid a price beyond measure. And within the disfigured flesh that was once a vision of youth lives a spirit that cannot accept what the world has become.
An immediate bestseller upon its first publication in 1939, Trumbo's stark, profoundly troubling masterpiece about the horrors of the First World War brilliantly crystallized the uncompromising brutality of war and became the most influential protest novel of the Vietnam era.
As timely as ever.
Information
Format: Paperback
Pages: 288 pages
Publisher: Penguin Books Ltd
Publication Date: 30/07/2009
Category: First World War fiction
ISBN: 9780141189819
Free Home Delivery
on all orders
Pick up orders
from local bookshops
Reviews
Showing 1 - 1 of 1 reviews.
Review by PilgrimJess
16/06/2015
"Now I lay me down to sleep my bomb proof cellar's good and deep but if i'm killed before I wake remember god it's for your sake amen." Wow, what can I say about this book? Thought provoking? Yep. Harrowing? Yep. Disturbing? Yep. Intriguing? Oh yeah and then some.This book features a young man Joe Bonham, conscripted to fight in the trenches of WWI only to be horrifically injured in a shell blast. Joe wakes up initially to find that he is deaf but then realises that his injuries stretch much farther than that as it turns out that he has lost all his senses bar one, thought, so he finds himself trapped with only his thoughts and memories for company. Now this book is seen as anti-war and is certainly that with tales of conscripts sent to fight others' battles but this book is more than that, it is also about being part of a larger humanity and what happens to us if we are cut off from it. A desperation to belong.Many people will argue that this book is now out-dated and as most countries no longer have conscription they are right to a certain point but the fact is even today whilst most armies are made up of volunteers and professionals, wars are still fought by the little people not by the elite. What has changed is that modern warfare means that weapons are able to be fired at vast distances at largely unseen enemies but the fact remains that there is still someone on the receiving end of them likely to be killed, injured or their lives irrevocably changed forever usually detrimentally. The fact is that medical advances means that more and more people are surviving and living with horrific injuries than ever before as can be witnessed whenever we put on our TVs. In that way this book is stiil as relevant now as when it was first published,in 1939.This book also challenges many of the norms we ascribe to in a so called civilised society that are too complex to go into in any great detail. However, there are also some very subtle touches of comedy which periodically lift the gloomAn interesting thing to note, and I feel that this is a touch of genius by Trumbo, is that throughout the book there is no punctuation other than full stops. This means that the book reads as a single stream of thought. Now this was not at first initially obvious to me but as I got further and further into the book this struck me as a brilliant ploy.Go out and read this book. Whether you enjoy or hate it I almost guarantee that it will at least get you thinking about just what it means to be 'human'.
Also in the Penguin Modern Classics series | View all