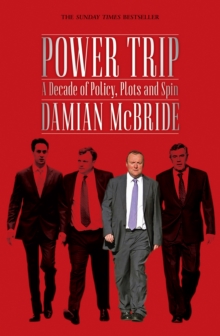 Power Trip : A Decade of Policy, Plots and Spin
Paperback
Description
Updated with explosive new chapters Hailed as the must-read political book of the year by commentators on all sides of the great divide, Power Trip is the explosive memoir of one of Westminster's most controversial figures. From 1999 to 2009, Damian McBride worked at the heart of the Treasury and No. 10. He was a pivotal member of Gordon Brown's inner circle before a notorious scandal propelled him out of Downing Street and onto the front pages.
Known by friend and foe as 'Mad Dog' or 'McPoison', Brown's right-hand man demonstrated a ruthless desire to protect and promote New Labour's no. 2, whatever the cost. Laying bare his journey from naive civil servant to disgraced spin-doctor, McBride writes candidly about his experiences at the elbows of Brown, Balls and Miliband, detailing the feuds, plots and media manipulation that lay at New Labour's core. Freshly updated with revealing new material, Power Trip is an eye-watering expose of British politics and a compelling story of the struggles and scandals that populate the political world.
Information
Format: Paperback
Pages: 488 pages
Publisher: Biteback Publishing
Publication Date: 25/07/2014
Category: Memoirs
ISBN: 9781849547147
Free Home Delivery
on all orders
Pick up orders
from local bookshops
Reviews
Showing 1 - 1 of 1 reviews.
Review by Eyejaybee
16/06/2015
Damian McBride spent a decade at the heart of Gordon Brown's caucus, during the latter years of his time as Chancellor and then through most of his tenure as Prime Minister. The prevailing public image is of someone who was Machiavellian, brutal, thuggish at times and, above all, someone whom it was best not to cross. This memoir does nothing to dispel that perception, and he puts his hand up to be guilty as charged for many of those accusations.The book gives a fascinating insight into how 'Team Brown' operated, and the close relationship between Gordon Brown and 'the two Eds' (Balls and Miliband). Brown towers over every aspect of the story, and while it is by no means a hagiography, McBride seems at far greater pains to protect Brown's image than his own. He is also remarkably sanguine about the dirty tricks email fiasco that led to his own disgrace and departure from the Brown caucus.I was intrigued to read an insider's account of events that I had followed so closely at the time they unfolded, and was left feeling that Downing Street must be an awfully difficult place for all who operate there, senior politicians, civil servants and advisers alike.I also enjoyed reading about McBride's relationship with Balshen Izzet, his girlfriend throughout much of the period covered in the book, as I had briefly encountered her in my own work at what was then the Department for Children Schools and Families. [Ed Balls, when Secretary of State at that Department, participated in an outdoors 'cook off' with TV chef Phil Vickery on an arctic day at Covent Garden in December 2009 to promote his cookery book aimed at primary school children, and Balshen and I were the departmental officials in attendance.] She would later act as 'getaway driver' helping McBride to escape the hordes of press representative gathered outside his flat when the story of his disgrace broke.This book hasn't improved my opinion of McBride, but I was impressed by the honesty of his confessions, and gripped by the unfolding stories which read as well as a political thriller.
Also by DAMIAN MCBRIDE