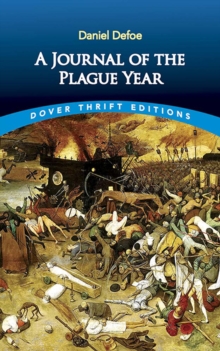 A Journal of the Plague Year
Paperback
Information
Format: Paperback
Pages: 192 pages
Publisher: Dover Publications Inc.
Publication Date: 09/11/2001
Category: Diaries, letters & journals
ISBN: 9780486419190
Other Formats
Paperback from £6.65
EPUB from £1.94
Hardback from £18.95
Free Home Delivery
on all orders
Pick up orders
from local bookshops
Reviews
Showing 1 - 4 of 4 reviews.
Review by ArmyAngel1986
16/06/2015
Kind of slow moving and repetitive in parts, not to mention long-winded. It was interesting, but I won't be rereading it.
Review by santhony
16/06/2015
I must admit to a morbid fascination with accounts of natural disasters, harrowing exploration tales and historical plagues. This ostensibly first-hand account of the 1665 visitation of the Black Death upon London, written by Daniel DeFoe, certainly fits nicely into that genre. I say "ostensibly", because while Defoe was alive at the time of the event, he was a very young child and wrote this work in 1722. Therefore, while we can be assured that many of the accounts therein are largely accurate, it would be stretch to label it as strictly non-fiction.This is not a spellbinding or even captivating read. It is full of statistics and seemingly never ending references to specific neighborhoods and precincts as existed in London at the time. Much of the book is taken up with body counts and comparisons of mortality from time to time in the different areas of London and its environs. As most people have no geographic knowledge of the area, this is largely wasted, except to realize that, "Gee, a lot of people died in Whiteside, but not so many in Wapping."Sprinkled throughout this relatively short work (under 200 dense pages), are interesting anecdotes, and this is the beauty of the book; the actions and reactions of everyday people to the scourge within their midst. How did the authorities address the problem? What was the medical knowledge and prevailing treatments as existed at the time? What did people in London do when commerce and society effectively broke down? What did they do to acquire food? How were the bodies disposed of? All intriguing and practical questions that are asked and answered herein.Given the factual and dry nature of most of the prose, coupled with the early 18th century writing style, I cannot recommend this work to the casual reader or one looking strictly for entertainment or to pass the time. Even an aficionado of the genre will likely be hard pressed to profess an unreserved endorsement of the book as anything other than what it is; a dry, at times enlightening, account of the Black Death's impact on the city and citizens of London, written in close proximity to the event itself.
Review by rrainer
16/06/2015
I find it difficult to give this a rating not only because of what it is--a book that straddles the fiction/non-fiction line, written centuries ago--but also because of the reasons I read it. I wasn't looking for the story, but for insight into the time period, the science and the language and the people and the geography. It's part anecdote and part statistic, and it makes me wonder what it would have been like to be a contemporary reader of something like this, when it felt like an authentic representation of something that <em>could conceivably happen again tomorrow</em> and not a fictionalized account of something that we no longer fear...or if we do, not at all in the same way or context.
Review by hemlokgang
16/06/2015
Daniel Defoe is a fascinating writer. He can write a marvelous melodrama and then create a novel that reads as if it is non-fiction. This fictional documentation of the great plague of 1665 in England is quite remarkable. Apparently some historians think it is better than actual documentation in its ability to convey the progression and social repercussions of this horrifying black death. He carefully lays out the slow unraveling of the societal fabric. He seems to say that fear and suffering result in chaos and irrational behavior. The desire to survive drives people to behave in ways they would not otherwise even consider or believe themselves capable of. I have to say that the power of this book seems, unfortunately, as relevant now as ever. With an Aids epidemic, Ebola epidemic, and threats of biological warfare in our lives, it is a pretty scary insight into the likely chain of events should some form of massive biological threat present itself. This was not a fun read, but very thought provoking.
Also in the Dover Thrift Editions series | View all