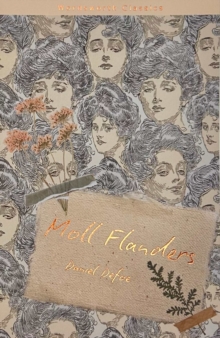 Description
With an Introduction and Notes by R.T.Jones, Honorary Fellow of the University of York. The novel follows the life of its eponymous heroine, Moll Flanders, through its many vicissitudes, which include her early seduction, careers in crime and prostitution, conviction for theft and transportation to the plantations of Virginia, and her ultimate redemption and prosperity in the New World. Moll Flanders was one of the first social novels to be published in English and draws heavily on Defoe's experience of the topography and social conditions prevailing in the London of the late 17th century.
Information
Format: Paperback
Pages: 304 pages
Publisher: Wordsworth Editions Ltd
Publication Date: 05/10/1993
Category: Classic fiction (pre c 1945)
ISBN: 9781853260735
Other Formats
Paperback from £2.50
Hardback from £8.35
EPUB from £0.99
eAudiobook MP3 from £5.84
PDF from £1.29
Free Home Delivery
on all orders
Pick up orders
from local bookshops
Reviews
Showing 1 - 5 of 10 reviews.
Previous | Next
Review by george1295
16/06/2015
Daniel Defoe engages the reader in a story which exposes the plight of women in 17th century England. Moll Flanders (a name used for disguise) lives a life of one who must/chooses to do whatever it takes to survive. Throughout the tale, she is the victim of misfortunes both of her own creating and not of her own creating. This is an excellent book, particularly for those readers who like period pieces.
Review by shanaqui
16/06/2015
Moll Flanders (by Daniel Defoe) was the first book I've had to read for class now I'm at university. This is for my "introduction to the novel" module, and it's considered to be one of the earliest English novels, and is part of the canon as my university sees it. In my opinion, it's not quite there -- Defoe "marketed" it as a true story, and in terms of style or plotting like a novel, there's little. It's just the straight, stream-of-consciousness tale of a woman in the seventeenth century who has loose morals. There are no chapters, the story is entirely linear, and it doesn't follow the same conventions as what we'd now consider a novel.<br/><br/>Which is not to say I don't see where it comes into the canon: it's clearly fictional, and reminds me quite a lot of books like Go Ask Alice, only for the seventeenth century! It's interesting to observe how different things were then: the weird punctuation, random capitalisation and italicisation, the lack of chapter breaks, the lack of speech marks. Very strange to think how much the novel has evolved.<br/><br/>In terms of plot, it's not as shocking as I was expecting it to be given the blurb: "Moll Flanders follows the life of its eponymous heroine through its many vicissitudes which include her early seduction, careers in crime and prostitution, conviction for theft and transportation to the plantations of Virginia", etc. There's not honestly much prostitution, although she has lots of husbands, and the sex stuff is all skipped over quickly. One of the stories within the story is quite weird: the story of how she marries her brother. The theft part doesn't show up until later on, although that isn't half-hearted and a lot of her clever heists are described.<br/><br/>As a character, Moll gets quite a lot of depth; but at the same time, you expect that from a novel of this length that is written entirely in her head! I didn't really feel any emotional connection to her, though, and she didn't feel 'real' to me, really. I found the whole book quite boring and difficult to read. Worth a look, though, if you're interested in early novels. I could probably do a better, fuller review of this after my lecture next week -- heck, I might come back and edit some more interesting stuff in. Right now, though, I need to go off and make notes on the portrayal of women in it, before I forget!
Review by alsocass
16/06/2015
I finally finished reading Moll Flanders, and I loved it.<br/><br/>I have heard such negative reviews about this book. I have heard it said that the heroine is not likeable. She is painted as a whore and a thief. I came away with an entirely different view.<br/><br/>Her character hooked me from the start. A beautiful and skillful woman, she is intelligent but unworldly. She meets with great success in the beginning of the book due to her own personal accomplishments, aspirations, and personality. She takes what little she has and uses it as best she can. She keeps running into bad luck which she works hard to overcome. I just adored her.<br/><br/>I love everything about the book. This isn't pulp fiction. I was recently inspired listening to a cambridge professor on the radio commenting on the idea of reading for fun. He criticised the idea that we read pulp fiction for fun, and suggested that we should read good novels for fun, he suggested Anna Karenina etc. The idea struck home with me, these are well written and highly enjoyable pieces of literature, why are they often considered too hard. I read Anne Karenina recently and found it fabulous, it blew me away.
Review by Benedict8
16/06/2015
We get a real taste of old England. Very well written in the King's English. If you are a little unsure about the subject matter, the great writing will make you happy you picked up the book. The leading character always has your sensibilities uppermost in her mind, so no worries.
Review by RussellBittner
16/06/2015
"…let the Experience of one Creature compleatly Wicked, and compleatly Miserable be a storehouse of useful warning to those that read." Daniel Defoe's summation (at the bottom of p.250 in the 2002 Modern Library paperback edition I just read) in the mouth — or at least in the thoughts — of Moll Flanders is, thankfully, as close to didacticism or morality as the author ever comes. It's also a good illustration of the non-standard spelling, capitalization, punctuation and syntax of his era (he finished the book in 1683), which may be the greatest obstacle to an otherwise clear and thorough enjoyment of the text.<br/><br/>To print <B><I>Moll Flanders</I></B> in the original was a conscious choice on the part of the publisher — and a choice I'm not entirely certain I agree with. As I had a similar difficulty with John Cleland's <B><I>Fanny Hill,</I></B> let the reader beware. (Imagine trying to dig through the unedited manuscript of a contemporary writer whose writing mechanics are, to say the least, primitive, and you'll get the picture.) <br/><br/>That caveat notwithstanding, <B><I>Moll Flanders</I></B> is a grand story — and eminently worth reading — no less than Fielding's <B><I>Tom Jones</I></B> or John Cleland's <B><I>Fanny Hill.</I></B> And one of the more interesting aspects of this novel is the point of view: in this case, first-person singular. In other words, a man (Defoe) tells the story through the eyes and heart — and, however obliquely, between the legs — of a woman (Moll). Moreover, he does so — in my opinion — quite convincingly.<br/><br/>What is perhaps most remarkable about the author of <B><I>Moll Flanders</I></B> (but also of the more popular if not necessarily more notable <I><B>Robinson Crusoe</B>)</I> is that Defoe first turned his hand to fiction only at the age of fifty-nine! One has to wonder whether he was an example and an inspiration to Benjamin Franklin, who first turned <I>his</I> hand to the violin at fifty-three. Who says — on the basis of this evidence — you can't teach a (smart) old dog new tricks?<br/><br/>RRB<br/>10/21/13<br/>Brooklyn, NY<br/>
Also in the Wordsworth Classics series | View all