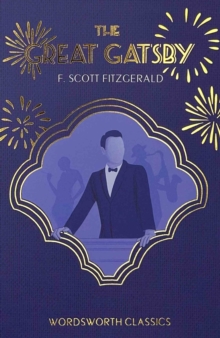 The Great Gatsby
Paperback
Description
Generally considered to be F. Scott Fitzgerald's finest novel, The Great Gatsby is a consummate summary of the "roaring twenties", and a devastating expose of the "Jazz Age". Through the narration of Nick Carraway, the reader is taken into the superficially glittering world of the mansions which lined the Long Island shore in the 1920s, to encounter Nick's cousin Daisy, her brash but wealthy husband Tom Buchanan, Jay Gatsby and the mystery that surrounds him.
Information
Format: Paperback
Pages: 144 pages
Publisher: Wordsworth Editions Ltd
Publication Date: 05/05/1992
ISBN: 9781853260414
Other Formats
Paperback from £2.50
Hardback from £8.35
EPUB from £1.04
CD-Audio from £8.59
from £9.95
Free Home Delivery
on all orders
Pick up orders
from local bookshops
Reviews
Showing 1 - 5 of 9 reviews.
Previous | Next
Review by Wanderlust_Lost
16/06/2015
A great book, but don't try to read it aloud. This is the story of Nick Carraway and his friend Gatsby. Nick is fairly poor living on the unfashionable side of a New York island. Gatsby is his rich "new money" neighbour who just happens to be in love with Nick's cousin. The story of this tragic love is a moving one, but I can't help but feel that the style of the narrative causes the reader to feel quite far removed from the characters. I have a feeling this was done on purpose to throw the aloofness of the characters and the complete lack of interest they seemed to display in their own lives into starker contrast, but it makes the book a bit difficult to digest. I must confess I hated this book when I first read it and although I can appreciate it more now as an adult I still find that it's one of those books I feel I ought to like more but can't find a conection with.
Review by SweetbriarPoet
16/06/2015
There is something about this book that makes me keep picking it up. It's not that I really love it. It's not that I really hate it. In fact, I cannot make up my mind. I'm so mesmerized by the underlying mood in the novel, the invisible theme that runs through the plot and ripples through the characters. I've given the book four stars because I cannot find anything else to do with it. When I first read it, I found the language hard to get into (even more so than Faulkner!), and the characters completely dull. But the second go-round, I found myself caught up in the description, and angered by some sort of ill sensitiviy in Daisy. The third time I picked up the book with a weight in my stomach. My professor had asked me specifically to choose a book I had read before, a book that didn't so much challenge my skills, but challenged my view of literature. The Great Gatsby certainly did that. It still does. At this point in time, I have discovered that Fitzgerald has punished me, and allowed me to wallow in this book. He has filled me with regret and nostalgia. How can one actually pinpoint what this book is about? What is important? What is the reality behind the characters? I love and hate this book. Because though I understand it, I cannot live it.
Review by theboylatham
16/06/2015
6/10.
A portrait of the Jazz Age in all of its decadence and excess, Jay Gatsby embodies some of Fitzgerald's--and his country's--most abiding obsessions: money, ambition, greed, and the promise of new beginnings.
Review by MyopicBookworm
16/06/2015
Given that this is a classic American novel and a set text across the US education system, with over 400 LT reviews, this is probably a waste of effort; but I like reviewing books so that I can remember them later myself.* * * Spoiler alert * * *(as though it mattered)It is not often that, on finishing a book, I go back and read it through again, but I did with this one. I wanted to look again at some of the descriptive writing. I'm certainly glad that I wasn't obliged to read it at school, as I'm sure I would have hated it, but coming to it a long time later, I enjoyed its portrait of 1920s America, which (on reflection) strikes me somewhat as P.G. Wodehouse-<i>noir</i>: the glamour and the squalor; the pointless parties; the shady business deals (it sounds a bit like today, actually!). The plot is intricate enough to be interesting, and though the straight-man narrator, Nick Carraway, is sometimes almost a cipher as he observes the crisis that builds among his acquaintances, some of the other characters are complex enough. It was curious to see how Gatsby is introduced as someone of whose world the narrator claims to be contemptuous, yet with whom he is clearly personally sympathetic, and to whom he is, in the end, almost the only true friend. And the figure of Gatsby is compelling: the wealthy magnate whose background is a matter of conflicting rumour, and whose attempt at plausible self-explanation is fluent, but just not quite plausible enough. I guess American readers pick up the scent of something fishy even faster than I did, when he inadvertently mentions his (true) origin in the "Middle West", and then when asked where (by Carraway, who is from Minnesota), hastily says "San Francisco". Carraway's desperate desire to believe in him is rather engaging, and perhaps is the reason for his being vouchsafed a true account of Gatsby's origins before the end. The characterizing of Gatsby's parties by the device of simply listing all the (presumably wholly fictional) socialites and people of influence that attended them is a cheeky conceit, but it works.The tale is a multi-layered tragedy. Gatsby's tragedy represents the underside of the American dream: the self-made man works his way from a diligent boyhood in rural North Dakota to wealth and the bright lights of Long Island, but does so by the patronage of criminal bootleggers and gambling syndicates, and after nearly regaining the love of his life, loses her at the last to her adulterous husband. Another tragedy is that Tom Buchanan, having played the cad by keeping a mistress, ends up having his problem solved by her death, and is able to throw the blame on to his rival in love: he is a bad guy and he gets away with it. None of the characters really deserves the reader's sympathy, except perhaps the luckless garage mechanic Wilson, who loses his wife first to Tom Buchanan's adultery, then to Daisy Buchanan's bad driving, and in taking revenge kills the wrong man (though he never finds that out).I said the descriptive writing was compelling: I'm transcribing several passages from the first three chapters into my Comments field for my own delight.MB 9-ii-2012
Review by sharlene_w
16/06/2015
Complex and enjoyable if you have the maturity to read and understand. I think high school english teachers do the book a disservice when it is forced reading. I read as a 16 year old because I had to. Read as a 50 something to learn and enjoy. Glad I revisited it!
Also in the Wordsworth Classics series | View all