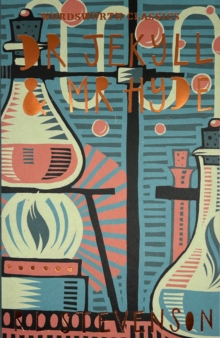 Dr Jekyll and Mr Hyde
Paperback
Description
With an Introduction and Notes by Dr Tim Middleton, Head of English Studies, University of Ripon and York. In seeking to discover his inner self, the brilliant Dr Jekyll discovers a monster.
First published to critical acclaim in 1886, this mesmerising thriller is a terrifying study of the duality of man's nature, and it is the book which established Stevenson's reputation as a writer. Also included in this volume is Stevenson's 1887 collection of short stories, The Merry Men and Other Tales and Fables. The Merry Men is a gripping Highland tale of shipwrecks and madness; Markheim, the sinister study of the mind of a murderer; Thrawn Janet, a spine-chilling tale of demonic possession; Olalla, a study of degeneration and incipient vampirism in the Spanish mountains; Will O' the Mill, a thought-provoking fable about a mountain inn-keeper; and The Treasure of Franchard, a study of French bourgeois life.
Information
Format: Paperback
Pages: 256 pages
Publisher: Wordsworth Editions Ltd
Publication Date: 05/07/1993
Category: Classic fiction (pre c 1945)
ISBN: 9781853260612
Other Formats
Paperback from £1.99
Hardback from £5.09
Free Home Delivery
on all orders
Pick up orders
from local bookshops
Reviews
Showing 1 - 4 of 4 reviews.
Review by nimoloth
16/06/2015
(Referring Only TO Dr Jekyll And Mr Hyde)I liked this, having taken to reading a lot more old classics recently than I have before. The book was fairly easy to read once I got into it - in fact, I felt it read a lot like The Adventures of Sherlock Holmes (Sir Arthur Conan Doyle) in style. Slightly old fashioned but enjoyable to read once you get into the flow of it.It was written to begin with from the point of view of one character, Mr Utterson, but towards the end in the form of written documentation from Dr Jekyll and one other character, which lead to an interesting way of concluding the story. It was probably easiest and most concise to explain things from Jekyll's point of view!I wasn't sure what kind of character Dr Jekyll was to begin with, knowing only the very bare bones of the story beforehand. I find that with classic stories such as Dracula (Bram Stoker), or The Phantom of the Opera (Gaston Leroux), I know roughly what the story is but there are so many variations out there that I don't really know how the original goes. So with this book, I didn't know if Jekyll was written sympathetically or otherwise. As it turned out, by the end of the book, I found him to be a not overly redeeming character in his own right, independant of Hyde. I was sympathetic to him to begin with but after reading his explaination of things, it seemed to me that his motivations were more or less selfish to begin with. I still had some sympathy for his fate, but not that much.In all, it was an enjoyable book, quite short (more of a short story really) and would be a recommendation for anyone who likes a bit of a mystery and a classic style and setting. If you liked Sherlock Holmes, you'll like this - very similar.
Review by john257hopper
16/06/2015
A mixed bag of stories. The title story is a well deserved classic, where the sense of suspense is not in any way diminished by the fact that we all already know the answer to the mystery as to why the good Dr Jekyll has gone into seclusion and has made out his will to the horrible Mr Hyde. Markheim is an interesting story of guilt and conscience following a murder. Thrawn Janet, described in the preface to this edition as a masterpiece, I found however to be unreadable as it is wholly written (i.e. both the narrative and the dialogue) in Scots dialect that I simply could not get into. The Merry Men contains a lot of the same and just did not draw me in, though it had an interesting premise. Will O'the Mill started in a banal fashion, though it did have a bittersweet ending. I could not summon up the enthusiasm to read Ollala or the Treasure of Franchard on this second reading of the collection (I read the book in 1999 but remembered nothing of it, hence my re-reading).
Review by BeSTAcademy
16/06/2015
A very strange case indeed!!!! 14yos was reading this one and narrating it for us during lunch each day. He did read a few of the other short stories in the book we borrowed from the library, but they were 'stupid'. I told him he could stop.
Review by PolymathicMonkey
16/06/2015
This book contains Jekyll &amp; Hyde along with the short story collection <i>The Merry Men and Other Tales</i>, which in turn contains the title story, Will O' the Mill, Markheim, Thrawn Janet, Olalla, and The Treasure of Franchard. Jekyll &amp; Hyde is, of course, a great story. Dark Gothic tale, moral quandaries, all sorts of fun to be had. Most everyone knows the basic premise, so I won't bore you. But if you haven't read it, you should. Even knowing what we all already know about it, in this case, doesn't dispel the suspense that Stevenson creates.As for The Merry Men. Well, the (incredibly short &amp; sparse and rather pointless) introduction to this collection claims that the stories are of "varying quality. The title story has real merit, but Will o'the Mill and The Treasure of Franchard reveal themselves as early works, written before Stevenson had mastered the short story form." And Thrawn Janet "is a masterpiece. There is a feeling of stark terror in it that is matched only by [...] Sheridan Le Fanu." Unfortunately there is no one named as having written this, so there is no one I can direct my anger at for their pretentious lunacy. Because clearly they haven't the slightest clue what they are talking about.The Merry Men started out decent enough, but the last third of it turned rather odd and I didn't think much of the ending. Also, two of the characters speak in Scottish brogue and are quite a chore to try and make out, and I missed a good deal of the text for lack of understanding the words. Will o' the Mill, contrary to dear old Intro Writer, was quite interesting and enjoyable. You really didn't know where it was going or how it would get there, but it was a rather good place to be when it did. Markheim was short and to the point, a tale of guilt and conscience. Thrawn Janet, again <i>quite</i> contrary to dear old Intro Writer, was miserable. Written entirely in Scottish brogue (except for the first (of nine) page, which is an introductory bit to what the story is about to tell, and really has nothing to do with anything; so the only legible part of the story is pointless), it is unreadable, racist, and just plain stupid, from what I could make out, that is. And the end was absurd. Seriously I am quite aghast that anyone would dare call such a travesty a "masterpiece." They need their head examined! Olalla I had read just a short bit ago in the Oxford Gothic collection, so I skipped rereading it here. But it was one of my favorite stories in that collection. The atmosphere is perfect, and is drawn out to that perfect suspenseful point, where things are a bit off but nothing is really wrong yet and you're just aching to know what in the world is going to happen! Very nice. And last, The Treasure of Franchard, where again, the intro could not be more wrong. Along with Olalla, this was my favorite of the Merry Men stories. It had depth, and though the main character makes you want to throttle him, it was a great story with a fabulous end, and the perfect end to the book.
Also by Robert Louis Stevenson | View all
Also in the Wordsworth Classics series | View all