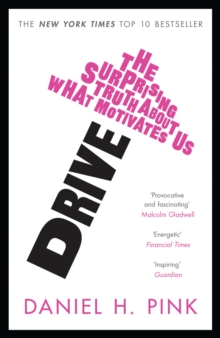 Drive : The Surprising Truth About What Motivates Us
Paperback
Description
A book that will change how you think and transform how you live Forget everything you thought you knew about how to motivate people - at work, at school, at home.
It is wrong. As Daniel H. Pink explains in his paradigm-shattering book Drive, the secret to high performance and satisfaction in today's world is the deeply human need to direct our own lives,to learn and create new things, and to do better by ourselves and the world.Along the way, he takes us to companies that are enlisting new approaches to motivation, and introduces us to the scientists and entrepreneurs who are pointing a bold way forward.
Free Home Delivery
on all orders
Pick up orders
from local bookshops
Reviews
Showing 1 - 2 of 2 reviews.
Review by brianinbuffalo
16/06/2015
Pink's well-researched book is jammed with "news you can use" in so many arenas. He provides a surprising spin on traditional carrot-and-stick motivational strategies. By weaving in examples and contemporary anecdotes (i.e. the rise of Wikipedia), Pink succeeds in making what could have become a highly technical and theory-driven book an enjoyable read. The underlying lesson is that external rewards (money, etc.) can deter intrinsic motivation and undermine creativity. The bottom line: don't try to bribe or brow-beat people into compliance; motivate folks to move into purpose-driven missions. Pink serves up "seven deadly flaws" of carrot-and-stick methods, eight exercises for bringing more autonomy and purpose into your life and many other practical suggestions. He even includes useful chapter summaries and a "dictionary of drive" that becomes a helpful glossary. I would highly recommend this book to managers, aspiring managers, entrepreneurs and other folks who must harness motivation to produce results.
Review by TheCrow2
16/06/2015
To tell the truth when I started to read this book I'd thought it'll be great. And it's not. Nothing wrong with it but it' a bit boring and self-repeatitious at the end and I have a feeling that it's nothing more than Csikszentmihályi's 'flow' idea (which Pink mentioning several times) in a rather simplified and digestable form....