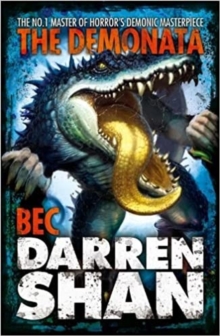 Description
Darren Shan's Demonata series continues with more shocks, demons and thrilling twists in the chilling Bec. As a baby, Bec fought for her life. As a trainee priestess, she fights to fit in to a tribe that needs her skills but fears her powers. And when the demons come, the fight becomes a war. Bec's magic is weak and untrained, until she meets the druid Drust.
Under his leadership, Bec and a small band of warriors embark on a long journey through hostile lands to confront the Demonata at their source. But the final conflict demands a sacrifice too horrific to contemplate...
Information
Format: Paperback
Pages: 272 pages
Publisher: HarperCollins Publishers
Publication Date: 04/06/2007
Category: Horror & ghost
ISBN: 9780007231393
Free Home Delivery
on all orders
Pick up orders
from local bookshops
Reviews
Showing 1 - 3 of 3 reviews.
Review by Clurb
16/06/2015
More of the same from Shan, but with an historical fiction twist. One of the better books of the Demonata series.
Review by SamuelW
16/06/2015
Darren Shan, the self-styled 'Number One Master of Horror', serves up another helping of blood-fuelled mayhem in <i>Bec</i>, the fourth instalment in his children's horror series <i>The Demonata</i>. While his first three novels have been set within thirty years or so of the present day, <i>Bec</i> takes readers back to fifth century Ireland, when the dreaded St Patrick and his Christian followers were converting everyone they came across, and when, Shan insists, early settlements were under constant threat from otherworldly demons. This bygone era creates a medieval, <i>Lord of the Rings</i>-ish fantasy feel; mixed in, of course, with Shan's usual horrific atmosphere. The monsters in <i>Bec</i> only come out at night, so most of the terror is fuelled by good old fear of the dark – not a new tactic, but still a scary one.Scattered throughout the story are clever little links to the other novels and the overall plot of the series. Fans of previous books will recognise recurring themes, such as chess, lycanthropy and magic, as well as the familiar faces of Lord Loss and his minions. On the other hand, they will also notice that while <i>Bec</i> has its shining moments, it unfortunately does not quite manage to outstrip its prequels. At the moment, the four <i>Demonata</i> books are all just as much gruesome fun as each other – which, considering the exceptional standard of Shan's writing, is more of an advantage than a drawback.Without a doubt, the most outstanding part of <i>Bec</i> is the ending. In the final few chapters, Shan delivers the best (and longest) action scene in the entire series so far – a fast, bloody, full-on climax that will grip and shock readers right to the very last page. Once again, he demonstrates his prowess at perfectly balancing vivid description with relentless pace. Expect the unexpected – the inside of a demon tunnel is unlike anything you have ever imagined.It goes without saying that <i>Bec</i> is a must read for <i>Demonata</i> devotees – a fresh new instalment that promises not to disappoint! Highly recommended for brave fantasy fans aged thirteen years and older.
Review by ArkhamReviews
16/06/2015
While I didn't actively dislike Bec, I did feel as though it was the weakest novel in the series so far. While it is faster paced than Slawter, it did not really contribute anything noticeable to the overarching plot.All of the aspects raised in this novel - the machinations of the Demonata, the magic system, the creation of "tunnels" to the other world - have been explored in the previous three stories and I did not feel that Bec developed these ideas beyond what I already knew. There were a couple of elements - the origin of the Grady family and Lord Loss's obsession with chess - which were kind of interesting to see but these seemed to be more curios than important details that needed to be told. The story's setting is also markedly different to the other novels (while Demon Thief was set in to 1970s and the other two were present day, Bec is set sometime around AD 300). It was interesting to see Shan writing outside of his comfort zone and the Celtic elements were nicely integrated into the novel, yet in terms of characterisation it seemed to be lacking. The only character I really empathised with was Bran, and that was purely because he did not understand what was going on for 90% of the time. I did not really care if any of the others lived or died, especially as I could tell that most had little significance in the greater scheme of things.Bec was also a bit of a disappointment as a character. I was curious to see how Shan would write a female protagonist, as his female secondary characters are often rather shallow. While Bec was not badly written, I also never really grew attached to her. I loved Kernal in Demon Thief and, by the end of Slawter, had also warmed to Grubbs but I just felt too far removed from Bec. Her motivation felt as though it came entirely from a sense of duty rather than personal desire and, personally, this made it hard for me to sympathise with her plight. Maybe she'll grow on me later - only time will tell.All in all, the book was alright and didn't bore me but it also just didn't interest me in the same way that the others did. Hopefully the overarching plot will take hold again in the next novel.
Also in the The Demonata series | View all