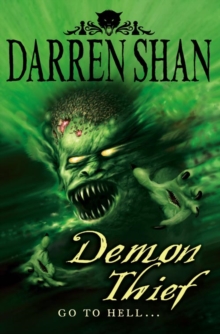 Description
A hellish nightmare for only the bravest of readers...
Darren Shan's horrifying series, The Demonata, continues with Demon Thief. When Kernel Fleck's brother is stolen by demons, he must enter their universe in search of him.
It is a place of magic, chaos and incredible danger.
Kernel has three aims:* learn to use magic,* find his brother,* stay alive. But a heartless demon awaits him, and death has been foretold...
Information
Format: Paperback
Pages: 288 pages
Publisher: HarperCollins Publishers
Publication Date: 01/06/2006
Category: Horror & ghost
ISBN: 9780007193233
Free Home Delivery
on all orders
Pick up orders
from local bookshops
Reviews
Showing 1 - 2 of 2 reviews.
Review by SamuelW
16/06/2015
Demon Thief is the gruesome second book in Darren Shan's horror series The Demonata. Set around thirty years before the start of the first book, Lord Loss, it provides a fresh new tale with some new characters and a new narrator, but a few familiar faces crop up as well, both humans and demons. As a sequel, it equals but does not surpass Lord Loss. The two books are interesting to compare – Shan has used a somewhat different set of skills to write Demon Thief, making it more of an emotional, suspenseful and mysterious novel, while Lord Loss was more of a high-tension, run-for-your-life-type book.Demon Thief is easily the goriest book I have ever read. This is a book to be kept away from the church at all costs if anyone ever hopes to read it again. Blood, guts and vomit flow profusely from a world where demons rip people's heads off and dig into their brains. Despite all this, however, the gore in Demon Thief could not be described as gratuitous. Shan has created a horrible world, inhabited by creatures without feeling or reason, and every bit of the violence in this book is entirely justified. Where some authors would censor the more bloody moments, sacrificing a bit of realism to stay within the bounds of what would generally be considered a 'children's book', Shan does not. He extends a friendly hand to the reader, saying, "What I am about to show you is terrible and gruesome, but I think you're tough enough to handle it." An unspoken compliment like this means more to a child than most people appreciate.The gore in Demon Thief is accompanied by some of the miserable principles recognisable from Shan's original series – he does not protect important characters, and sometimes things can never go back to the happy way they were at the beginning of the story. The result, as usual, is a novel that's bloody, miserable, twisted and heartbreaking – but brilliant.Demon Thief is an achievement not to be missed, a wicked, unpredictable journey with plot twists that will have readers guessing right to the end. Highly recommended for any teenager, (except the squeamish ones!)
Review by ArkhamReviews
16/06/2015
Although I thought that Lord Loss was amazing, Demon Thief was a little disappointing. Kernel is a slightly more sympathetic protagonist than Grubbs Grady, and we do get a bit more of a feel for his life and family ties before disaster befalls him, however Demon Thief is much more of a standard tale of demon hunting that offered nothing especially original. While it did expand of the universe of Lord Loss, putting some mechanics in place that look as though they will be important in future instalments, it lacked the gripping climax and character development of the original.I also felt that the twist was made too obvious early on. I had figured out most of the twists of the novel by the time Kernel met Beranabus and so found the end of the story to be a bit of a let down.I intend to stick with the series as I understand that the next novel is a direct sequel to Lord Loss, but I did not really think that there was anything remarkable about this title.
Also in the The Demonata series | View all