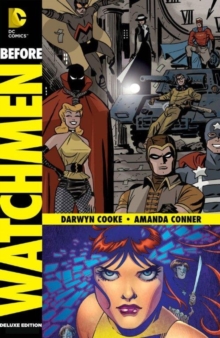 Before Watchmen: Minutemen / Silk Spectre HC
Hardback
Description
The controversial, long-awaited prequels to the best-selling graphic novelof all-time are finally here: BEFORE WATCHMEN!
For over twenty years, the backstories of the now iconic characters from Alan Moore and Dave Gibbon's landmarkgraphic novel have remained a mystery - until now!
Now, DC Comics hasassembled the greatest creators in the industry to further paint the world ofWatchmen, starting with this first volume starring the Minutemen and SilkSpectre!The critically acclaimed and Eisner Award-winning creator of DC: The NewFrontier, Darwyn Cooke, lends his talents to the Minutemen.
As thepredecessor to Watchmen, the Minutemen were assembled to fight against aworld that have more and more rapidly begun to spin out of control.
Can theseheroes from completely different backgrounds and with completely differentattitudes on crime come together? Or will they fall apart before they begin?Laurie Juspeczyk struggles with her overbearing superhero mother and herscattered path toward taking the mantle of the Silk Spectre.
With gorgeous artby co-writer and illustrator Amanda Conner (Power Girl, The Pro),Silk Spectre takes a very different perspective at the world of BeforeWatchmen.
Collects Before Watchmen: Minutemen #1-6 and Before Watchmen:Silk Spectre #1-4.
Information
Format: Hardback
Pages: 288 pages
Publisher: DC Comics
Publication Date: 01/07/2013
Category: Superheroes
ISBN: 9781401238926
Free Home Delivery
on all orders
Pick up orders
from local bookshops
Reviews
Showing 1 - 5 of 8 reviews.
Previous | Next
Review by ElizaJane
16/06/2015
I read Watchmen a few years back and really enjoyed it so was looking forward to reading these new additions to the canon. Just so you know where I'm coming from, I'm a fan of the original book, but never did see the movie and am not on the level of a groupie, just a one-time reader. These Before Watchmen books don't seem to be numbered so I stated with this one because it featured the Minutemen who were the precursors to the Watchmen. The book contains the two stories. First I just loved the 80s style art, both by Cooke and Conner. The Minutemen story was told in a flashback as the group had disbanded and Night Owl had written a tell-all book and was going around seeking approval from the former members, though receiving nothing but protestations to not publish the book. Through this we flashback to the forties and the whole story of the Minutemen. I wasn't particularly thrilled with the plot. I didn't like the book angle, it made Night Owl an unsympathetic character; I had no interest in the gay plots nor the revenge themes. It was interesting to get a background story on these guys but I certainly wouldn't be interested in any more stories about this team as they are not likable as a group at all. Silk Spectre is the daughter of one of the original Minutemen members and we get the story of her growing up until eventually she joins the newly formed Watchmen. I enjoyed this half much better. It was a much more entertaining story but I found her mother's character, Sally Jupiter, harder to like than in the Minutemen. Otherwise the angsty story of a teenager rebelling against her mother's training of her to take her place as a masked hero and her eventual realization that she is cut out to be in this line of work n spite of her mother was good and made me more interested in Silk.
Review by kivarson
16/06/2015
I howled out loud while reading this book--howled with utter glee for how beautifully Darwyn Cooke pulled in historical figures and references and wove them into the backstory of the Silk Spectre. For instance, a teen Silk Spectre settles in to Haight Ashbury in the late sixties, only to find that the bad guys have enlisted the aid of Owlsley and his product to take over the minds of the hippie community and make them good consumers. Heh, heh. Great stuff. Looking forward to more in this series of Watchmen origins stories.
Review by aadyer
27/08/2015
A valiant effort @ making the Minutemen & Silk Spectres back stories work. Does it work? Well largely, would be my answer to that. Whilst one could ONLY take Alan Moore's work as canon, & I have some sympathy for that position, the hard work, illustration & obvious respect & homage to the original Watchmen graphic novel shine through here. Worth a look but with an open mind. It won't be to every fan boys taste.
Review by sweetiegherkin
10/11/2015
As I'm sure I've mentioned before, I was loathe to touch the <I>Before Watchmen</I> series at first because I thought the original graphic novel said it all and no more needed to be added. Eventually my curiosity got the better of me, and I've been slowly working my way through the <I>Before Watchmen</I> series. This addition - <I>Minutemen/Silk Spectre</I> is by far my favorite. Exploring the past histories of the various members of the Minutemen is about the only origins story that makes sense to me, given that Moore gives us the least information about them in the original book. In the spirit of the original graphic novel, Darwyn Cooke presents a multi-layered, complex story. It is mainly told from the point of view of Hollis Mason in the 1960s, now retired from vigilantism and writing his soon-to-be famous <I>Under the Hood</I> book. He's using this book as a sort of tell-all to unburden his own guilty soul, and his former fellow costumed heroes are all in an upset over the drafts they've read. The narrative shifts back and forth between this storyline to the past of the Minutemen first individually donning their costumes, then coming together as a group, their early adventures as a unit, and the eventual unraveling of their group. One large undercurrent is an ongoing case involving the disappearance of children and the abuse they are likely enduring. These plotlines can be rather dark and bleak at times, but there's still enough well-meaning intentions behind various characters to not make the entire story seem like doom and gloom. In general, this book doesn't change the Minutemen characters dramatically but rather fills them out into more three-dimensional beings. Silk Spectre was the story I was most looking forward to and simultaneously dreading when I first heard about the <I>Before Watchmen</I> series. Laurie is my favorite character from <I>Watchmen</I>, so I was eager to read more about her, yet wary that the new addition to her origins might get her character completely wrong. When I saw Amanda Conner was part of the creative team behind this offering, I was more hopeful than ever that this would be a good story. I was not disappointed. This story fits well in the continuity of Laurie's character as we knew her in <I>Watchmen</I>. It takes place in the mid-60s when Laurie is a teenager, rebelling against the way her mother is controlling her life and trying to shape her into a crime-fighter. She ends up running away from home, only to find that her mother's lessons come in handy after all, and she ultimately returns home to carry out the mantle of the Silk Spectre but on her own terms. The Laurie presented here is similar to the one we meet at the beginning of <I>Watchmen</I>, although arguably a smidge more immature. She's at the beginning of her journey, but she's already starting to gain some ground on all she has to learn. Despite a fairly ominous plot that draws Laurie into investigating the criminal element, there are a ton of fun bits here from Laurie's girlish daydreams (which reference romance comics) to several Easter eggs indicating the parentage she won't learn until towards the end of <I>Watchmen</I> to her inner thoughts on first meeting the Crimebusters group (including her internal comment that Dan is such a "square"). Both Cooke and Conner exceled at somehow still conveying their own personal illustrative styles in these two stories while remaining true to the original look and feel of the Watchmen characters. I personally very much enjoy comic books in which the drawings are by and large realistic and which feature a number of background details. This book delivered on both of those, so I was very pleased. While this book isn't the tour de force that <I>Watchmen</I> was, it is a delightful work of its own right, which should entertain all except the most hardcore purist of <I>Watchmen</I> fans.
Review by Rosa.Mill
27/01/2016
There was a lot of controversy surrounding the Watchmen book when they were first being written due to the original creator not wanting the series written. In the end I'm glad I decided to read them anyway. This volume contains portions of Hollis' book describing the forming of the Minutemen and how the team ran and interacted with each other excepting those parts that were extensively covered in The Watchmen and Lori's story of first becoming Silk Specter up until the first meeting of the Watchmen.<br/><br/>Both stories felt well written and beautifully illustrated to me. I'm glad they followed cohesive story lines rather then being episodic. I loved Silhouette's story and feel like she was worthy of her own book.