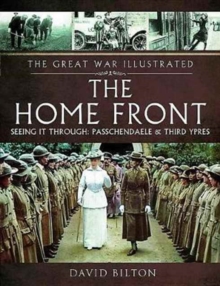 The The Great War Illustrated - The Home Front : Seeing It Through - Arras and Passchendaele
Hardback
Description
Many books have looked at the effect of the war on the Home Front, but this is the first series to take a glimpse at the Home Front photographically from an international point of view, covering both Allied and enemy countries, juxtaposing the same situations in different countries to show a similar response. It also looks at the Home Front for those caught behind enemy lines where life was both spartan, potentially dangerous and subject to the whim of the victor.
The photographs included throughout, many of which have not been seen before and some which have never been published, clearly show that each year of war had a further profound effect on each nation.
This unique series of international photographic books fits in with the author's more textual books on the Home Front: Hull in the Great War and Reading in the Great War, both of which explore the complex life of a city at war.