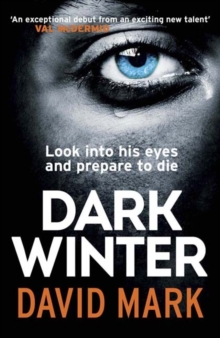 The Dark Winter
Paperback
Description
THE SUNDAY TIMES BESTSELLING RICHARD & JUDY PICK AND KINDLE CHART-TOPPING SENSATION: MEET DS AECTOR MCAVOY, AND BEGIN DAVID MARK'S ADDICTIVE HULL-BASED CRIME SERIES. 'Dark, compelling crime writing of the highest order' Daily Mail 'Breathtaking.
Mark writes bad beautifully' Peter May, author of The Blackhouse Hull, northern England.
Two weeks before Christmas. Three bodies in the morgue. The victims - each a sole survivor of a past tragedy - killed in the manner they once cheated death.
Somebody is playing God. And it falls to DS Aector McAvoy to stop their deadly game.
Hooked on Hull? Then check out the second in the DS Aector McAvoy series, Original Skin ...
Information
Format: Paperback
Pages: 400 pages
Publisher: Quercus Publishing
Publication Date: 01/01/2013
Category: Crime & mystery
ISBN: 9780857389213
Free Home Delivery
on all orders
Pick up orders
from local bookshops
Reviews
Showing 1 - 2 of 2 reviews.
Review by Eyejaybee
16/06/2015
My knowledge of Hull, a formerly bustling fishing port on the Humber Estuary, is limited - I made a couple of very brief visits more than thirty years ago, principally for the purpose of driving over the graceful Humber Bridge. I would have to say that David Mark's grim novel is not exactly going to send me scurrying back - throughout the book, set in the run up to Christmas, one can almost feel the piercing cold that relentlessly grips the city.The plot revolves around a series of particularly brutal murders that are investigated by Detective Sergeant Aector (a Gaelic forename) McEvoy, raised in the Scottish Highlands and come to rest in Hull. This is the first novel in what promises to be an intriguing series, and McEvoy already has a fair amount of baggage behind him. There are passing references to estrangement from his father, a crofter in the Western Isles, and also to incident the previous year in which McEvoy uncovered corruption among his CID colleagues which led to a the demise of senior officers and his own ostracisation. He takes comfort in his blissful marriage to Roisin, formerly part of a travelling community, and their three year old son Finlay. McEvoy is out with Finlay as the novel opens, with the two of them waiting in a city centre cafe for Roisin, when all at once they hear some screaming from the nearby Hull Cathedral. McEvoy momentarily forgets his paternal duties and runs towards the incident, only to be knocked to the floor by a fleeing man who, it transpires, has just killed a choir girl. This is merely the first of a serious of increasingly brutal and beguiling murdersMcEvoy is an engaging character - flawed, but not wrecked, and essentially empathetic in his treatment of his family, fellow officers, and even suspects. Unusual, but without the irritating quirkiness of far too many fictional detectives these days. I am looking forward to future volumes.
Review by col2910
16/06/2015
Synopsis/blurb.....<br/>Hull, East Yorkshire. Two weeks before Christmas, an elderly man - the only survivor of a fishing trawler tragedy 40 years before - is found murdered at sea. In a church, a young girl - the last surviving member of a family slaughtered during the conflict in Sierra Leone - is hacked to death with a machete. A junkie, who fled the burning house where he had set his family alight, is found incinerated on a rundown council estate. Someone is killing sole survivors in the manner they had escaped death. And it falls to Detective Sergeant Aector McAvoy of Humberside CID to find out whom. McAvoy, despite being a six-foot-five, man mountain of a police officer, is not your typical bullish detective. A shy, gentle giant, he is a family man obsessed with being a good and decent cop; more dab hand with a database than gung-ho with a gun - traits that have seen him become increasingly isolated from his colleagues in the force. Desperate to prove his worth, McAvoy knows he must establish the motive behind the killings if he is to have any chance of pinning the perpetrator. And he must do so quickly, as this twisted yet ingenious killer appears to have an appetite for murder.<br/>First book up in August and it was this debut novel from David Mark called The Dark Winter, published back in March, 2012. My wife read and enjoyed this several months ago, but it has taken a while for me to get around to it. It's fairly possible that the crime reading world and his wife has already read this and my better half and I could in fact be the last two individuals to enjoy it, who knows? <br/>Verdict..... it was an interesting enough read which started well for me, dipped a bit, got back on track and then finished ok. The main character, DS McAvoy was intriguing and sympathetic, though the slow drip drip drip of his back-story eventually proved to be irritating for me as opposed to intriguing and enigmatic. I would have liked to have seen him a little bit more cynical and world-weary after his previous troubles instead of maintaining the angelic, choirboy persona where butter refused to melt in his mouth. I think I prefer the heroes to possess some imperfections.<br/>The plot started well and unfolded at a reasonable pace. The raison d'être or premise for the whole book, provoked a bit of a "yeah, right" response when all became clear. A little bit unbelievable, ok a big stretch, but hey ho....I was intrigued enough to read on and didn't feel there was anything else I would rather have been doing.<br/>To be honest, I would have preferred McAvoy's boss, Trish Pharaoh to have been the lead character in this, but maybe I'm just a bit picky. More interesting, more real, less perfect, more flaws......and a strong female lead! <br/>Star of the show was for me, the city of Hull. Mark's portrayal was superb..........the decline, the people, the lack of hope in many and the continuing struggles of a few to endure......eye-opening, to say the least. <br/>Where to set the bar? 3 or 4, 3 or 4, 3 or 4.............I'm a generous soul so 4. I will probably read something less enjoyable this month, but I hope to read something a wee bit better.<br/>I think I obtained this copy from the RISI website, in exchange for something I had finished with. I was the lucky recipient of the second book in the series, Original Skin a month or two ago in a Goodreads giveaway. Maybe later this year then!<br/>
Also in the DS Aector McAvoy series