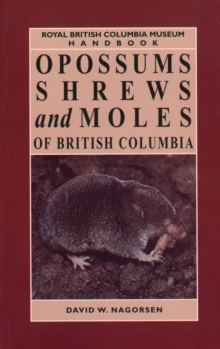 Opossums, Shrews and Moles of British Columbia
Paperback / softback
Description
British Columbia has the greatest diversity of insectivores (shrewsand moles) of any Canadian province: twelve species.
In some habitats,insectivores are the dominant mammals.
British Columbia's onlymarsupial, the North American opossum, was brought here by humans fromeastern North America.
But humans rarely see any of these mammals,except for the occasional shrew brought in by the family cats ormolehills observed in gardens or on golf courses.
Even naturalists arelargely unfamiliar with them. In Opossums, Shrews, and Moles of British Columbia, DavidW.
Nagorsen presents a comprehensive summary of the most up-to-dateinformation on these intriguing mammals.
He provides generalinformation on their biology, including ecology, diets, anatomy,relations with humans, and conservation.
Illustrated keys aid inidentification. In detailed species accounts, the author givesdescriptions of each species, along with their identifyingcharacteristics, natural history and taxonomy.
Each account isaccompanied by illustrations and a provincial range map.
Information
Format: Paperback / softback
Pages: 170 pages
Publisher: University of British Columbia Press
Publication Date: 12/06/1996
Category: Marsupials & monotremes
ISBN: 9780774805636
Also by David W. Nagorsen