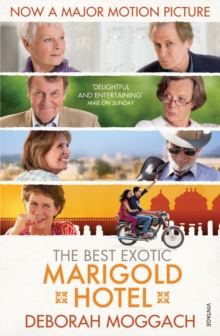 The Best Exotic Marigold Hotel
Paperback
Description
Enticed by advertisements for a newly restored palatial hotel and filled with visions of a life of leisure, good weather and mango juice in their gin, a group of very different people leave England to begin a new life in India.
On arrival they are dismayed to find the palace is a shell of its former self, the staff more than a little eccentric, and the days of the Raj long gone.
But, as they soon discover, life and love can begin again, even in the most unexpected circumstances.
Information
Format: Paperback
Pages: 304 pages
Publisher: Vintage Publishing
Publication Date: 16/02/2012
ISBN: 9780099572022
Other Formats
Paperback from £6.85
CD-Audio from £15.45
EPUB from £3.99
Free Home Delivery
on all orders
Pick up orders
from local bookshops
Reviews
Showing 1 - 5 of 5 reviews.
Review by SandDune
16/06/2015
I struggled to decide what I finally thought of this book. Initially I didn't like it very much at all: the characters seemed stereotypes and their situations didn't seem altogether believable, and at the beginning the book jumped around introducing one character after another at some depth so that I seemed to lose track of the earlier ones. However, it did grow on me halfway through. I listened to this as an audiobook and I think it would have been better read: I'd have probably read it more quickly and enjoyed it more.Ravi's father-in-law Norman is the bane of his life: blacklisted at all the local care homes for his lecherous attention to the female staff, he is once more living with Ravi and his wife Pauline in London. After he accidentally sets fire to their kitchen, Ravi pours out his troubles to his cousin Suni, a businessman on a visit from his home in India, who comes up with a solution to Ravi's problem and a idea for a new money spinning venture at the same time. Why not outsource the old people of England to India: Indian prices would be so much cheaper that their retirement savings would pay for a much better standard of living. The perfect venue is found: The Exotic Marigold Hotel, a slightly run- down establishment which is reminiscent of the last days of the British Raj. The old people are collected: Norman himself; Evelyn a self-effacing woman lost in the modern world without her husband; Dorothy, an ex BBC producer who was respected but not much liked in her profession life; Muriel, a working class woman from Peckham who lives for her son Keith; and several more. All are transplanted to India, where as seems usual in this sort of book about India, they undergo various transformations as they find their true selves in the community of the hotel. And that's one of the reasons that the book falls down for me: I'm not a great believer in a change of country being a huge life-transforming experience - the people themselves are still the same. Those who make a success of retiring abroad always seem the ones who were reasonably happy in the UK anyway - unhappy people generally take their unhappiness with them. Certainly with the film of the same name I get the impression that you were supposed to come away with a lovely fuzzy warm feeling, which I didn't get from the book.
Review by knitwit2
16/06/2015
Wonderful funny characters. There may have been too many characters for such a short book. I would have liked to have seen the characters develop more fully. Dororthy was funny with her serious retired careeer woman demeanor, Muriel with her unabashed bigotry, and Evelyn a sweet wish-she-was-my mother type were my favorites. There was the over sexed gentleman who meets his end with a transvestite, and the couple with the "perfect/not-so perfect life ( gay/closetted son). Can't wait for the movie!
Review by VivienneR
16/06/2015
A diverse group of seniors have been given the chance to reside at a retirement home - sorry, hotel - in India. For various reasons the Best Exotic Marigold Hotel is their most attractive option.There are more characters, more complexities, and a more interesting story line, than the movie, which is significantly different. And although there is a deeper, more serious slant, the story is highly entertaining. Differences in culture are stark, but the human ability to adapt is still alive. Moggach portrays the modern India with its call centres and "Silicon Valley" existing side by side with poverty. What I liked least was that most of the characters had so much regret, and so little of their lives to look back on with joy.The book was originally published with the title <i>These Foolish Things<i>. After the success of the movie it was reprinted as a movie tie-in. If I hadn't already seen the movie, I don't think I would have enjoyed this book as much. I could hear Judi Dench's voice every time Evelyn spoke.
Review by bookwoman247
16/06/2015
The glossy ad campaign for the newly renovated Best Exotic Marigold Hotel attracts a number of British pensioners to Banglaore.Although they don't find what they expect, many find something even more rewarding.I really enjoyed the humor as well as the poignant moments. As nrearly is always the case, the book was even better than the movie.
Review by Pferdina
27/08/2015
I actually enjoyed the movie more. Almost half of the book is taken up introducing the many characters before they move to India, and that makes it move slowly. The second half is better, with action taking place, but the stories do not feel as developed as I expected. There are probably too many different threads going on for any of them to get very deep. Still, this was a fine book.