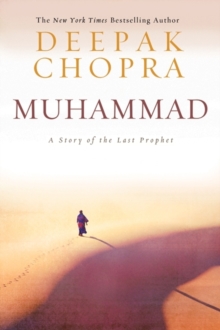 Muhammad : A Story of the Last Prophet
Hardback
Description
"Compassionate and clear...a courageous undertaking." -Greg Mortenson, New York Times bestselling author of Three Cups of Tea and Stones into Schools"As a scholar and storyteller extraordinaire, Deepak Chopra portrays a morally courageous yet highly human messenger of God." -Irshad Manji, Director, Moral Courage Project, New York UniversityFrom the New York Times bestselling author of Buddha and Jesus comes the page-turning and soul-stirring story of Muhammad.
Deepak Chopra-easily one of the most influential spiritual leaders in the world today-delivers this stunning, sincere, and highly accessible portrait of the Prophet of Islam.
Chopra's Muhammad is an outstanding resource for everyone who thinks they should know more about the man who inspired the world's fastest-growing religion.
Information
Format: Hardback
Pages: 288 pages
Publisher: HarperCollins Publishers Inc
Publication Date: 01/10/2010
Category: Historical fiction
ISBN: 9780061782428
Free Home Delivery
on all orders
Pick up orders
from local bookshops
Reviews
Showing 1 - 1 of 1 reviews.
Review by ValerieAndBooks
16/06/2015
I had read (pre-blogging) another book also titled "Muhammad" (but subtitled "A Biography of the Prophet), by Karen Armstrong. That one was first published in 1991, but I read it a few years later. While Armstrong did an excellent job of covering the history of this prophet, her book is very detailed and requires patience in reading. Armstrong (who is a former nun) has written several books discussing and/or comparing various religions, most recently "A Case for God" (2009) which has been sitting in my TBR pile.Deepak Chopra, on the other hand, is better known for his spirituality and self-help books. He has many of them, in fact. Before writing this novel based on Muhammad's life, Chopra has previously written two other novels: "Buddha: A Story of Enlightenment" and "Jesus: A Story of Enlightenment" (interesting that the subtitles for both books are the same).The Prophet Muhammad is considered to be the founder of the religion of Islam. Born around the year 570, he grew up and lived in Mecca, in what is now Saudi Arabia. Muslims believe that Muhammad is the last prophet of God (hence Chopra's subtitle, "A Story of the Last Prophet"). Muslims also believe in other prophets, such as Jesus and Moses, but that Muhammad has the final word, so to say. Muhammad's revelations by God ( Allah in the Arabic language) have been recorded in the Quran. Before God (Allah) reached out to Muhammad, many tribes in Arabia believed in hundreds of various gods. Muhammad was key in introducing the concept of One God to these tribes.Now to get on with Chopra's "Muhammad". What is this novel like? Each chapter is told from the point of view of someone who knew, or was acquainted, with Muhammad. There are 19 characters, therefore 19 chapters. These characters are widely diverse — they include Halimah, who was Muhammad's wet nurse; Khadijah, who was Muhammad's first wife; Ruqayah, his daughter; a man only known as a Jewish scribe; a beggar and so on.I am not sure that Chopra completely succeeds in varying dialect or voice among all the narrators, but the reader gets to see how each person lived, and how each is touched by Muhammad. The novel moves in roughly chronological order, so the reader sees how Muhammad grows and mature and finds God. The writing is somewhat plain and straightforward and not always smooth, but it isn't dull and dry. Here is an example of Chopra's writing (chapter 7), as told by A Wandering Mendicant (a beggar), about Muhammad and his first wife:"You should not suppose that Khadijah spotted Muhammad in the market place and felt herself swoon. Nor did he leave love poems pinned to her shutters comparing her almond eyes to a fawn in the moonlight. They were both sober people. She knew two things about Muhammad that anyone in business would be intrigued by. First, he was not all that experienced, having left Mecca on small caravans such as his uncle, Abu Talib, could afford. Second, he could be trusted."This book has an afterword that briefly informs us about Islam after Muhammad's death. This helps a reader not familiar with Islam understand where we are today regarding Islam. As Chopra points out:"Muhammad can be judged by the worst of his followers or the best. He can be blamed for planting the seeds of fanaticism and jihad or praised for bringing the word of God to a wasteland. In my walk with Muhammad I found that every preconception was unfair. What the Prophet bequeathed to the world is entangled with the best and worst in all of us."One problem about this book: it brings up the question of which type of reader will enjoy this book and find it satisfying. It is labeled self-help/spirituality, which I feel does not fit. Yes, it does cover the spirituality of Muhammad and Islam, but someone hoping to gain an awakening from this book may be disappointed. It might fit better in the religion section of a bookstore, but this book is in novel form; my impression of those pursuing the religion section is that they are looking for non-fiction. This book could actually be considered historical fiction, but it is unlikely that it would end up in the general fiction section of a bookstore. Additionally, readers who are well-read in comparative religion may find this book somewhat simplistic (hence, for example, Karen Armstrong would be a better fit). I feel that, in general, "Muhammad" by Deepak Chopra would be a good fit for someone who does not knows much about Muhammad and/or Islam and needs a gentle introduction.