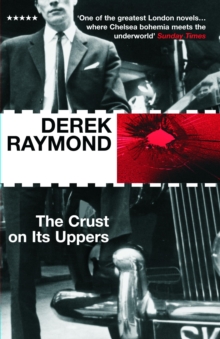 The Crust On Its Uppers
Paperback
Description
First published in 1962, The Crust On Its Uppers, Derek Raymond?s first novel (written when he was Robin Cook) is a gripping tale of class betrayal.
With ruthless precision, and a great deal of humour, it brings vividly to life a London of spivs, crooked toffs and bent coppers.
Information
Format: Paperback
Pages: 190 pages
Publisher: Profile Books Ltd
Publication Date: 01/10/2000
Category: Crime & mystery
ISBN: 9781852427351
Free Home Delivery
on all orders
Pick up orders
from local bookshops
Reviews
Showing 1 - 3 of 3 reviews.
Review by lriley
16/06/2015
Derek Raymond's first published work (1962) revolves around a young criminal born into Englands upper classes who has found his niche in an underworld of scams and violence. This nameless narrator along with his sidekicks Marchmare and Archbubble involve themselves in a scheme to distribute counterfeit money--a Eastern European communist intrusion meant to destabilize Britain's economy. The story told mostly in slang from his jail cell describes this adventure with much wit and verve--kind of a cross between Celine's 'Guignol's band' and Burgess's 'A clockwork orange' with a little bit of the Soprano's mixed in. The irrepressible nature of the narrator makes this into a very fun read despite the nasty bits of work he's up to and the sometimes heavy use of criminal slang--though Raymond does provide a glossary that helps to clear up most of the language confusion. Anyway I liked it a lot--it's fairly short, sweet and very entertaining--though in a guilty kind of way.
Review by datrappert
16/06/2015
Raymond's first novel is densely packed with rhyming criminal slang that will have you turning back to the far-too-brief glossary at the beginning of the book dozens of times. But be patient and you'll get in sync with this first-person tale of a bored young upper class man who has turned to a life of crime. When he decides to take up the offer of some Communist German counterfeiters, however, he begins to realize he may have bitten off more than he can chew. While the plot itself is compelling and really takes off in the last third of the book, it is the individual episodes that will stick with you--the narrator taking his accomplice to his parents estate so they can get in some target practice; his night out and spur-of-the-moment trip to Paris with his one true love; his relationship with an older woman; the times he wiggles out of an impossible jam. Through it all, Raymond's essential brilliance as a writer of gritty noir shines through. If you have found yourself immersed in his Factory series, by all means dig up a copy of this one. If you're an American like me, dealing with the lingo is well worth the effort--and even a bit educational.
Review by missizicks
16/06/2015
Not his best, but quite exciting once I got past the first couple of chapters with their excess of 1960s gang speak and rhyming slang. It was like reading an early Michael Caine film, a bit cheesy, a bit lairy, but the underlying story was good fun.