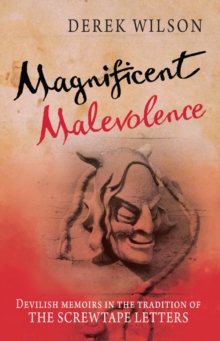 Magnificent Malevolence
Paperback
Description
"I was a junior tempter then, but even in those days I showed phenomenal promise - a promise which, as all read this will know, has been amply fulfilled throughout a career of quite unprecedented guile, deviousness, and magnificent malevolence ..." From the archives of the Low Command: Ministry of Misinformation (stamp) This remarkable manuscript outlines the career of the prominent devil, Crumblewit (Order of the Sons of Darkness, 1st Class).
Crumblewit provides a fiendish appraisal of the struggles between good and evil which dominated human affairs in the period from 1942 (when the great Screwtape's Letters were released to the world) to the present. Crumblewit's energies were deployed in the religious arena, undermining the attempts of Christians to carry out the mission entrusted to them by the Unmentionable One. The account is pleasingly distorted by its author's truly diabolical conceit and capacity for self-delusion.
It sheds a very satisfying light on the tribulations experienced by humans throughout this period. Popular historian Derek Wilson is the author of over 60 books and has written and presented numerous television and radio programmes. He lives and writes in Devon.
Information
Format: Paperback
Pages: 240 pages
Publisher: Lion Hudson Plc
Publication Date: 14/03/2013
Category: Religious & spiritual fiction
ISBN: 9781782640189
Other Formats
Paperback from £7.45
EPUB from £5.19
Free Home Delivery
on all orders
Pick up orders
from local bookshops
Reviews
Showing 1 - 2 of 2 reviews.
Review by baroquem
16/06/2015
This is by no means the only "sequel" to Lewis' _The Screwtape Letters_ that has been written over the years. The premise of the original is an appealing one and quite handy for the scrutiny of current events and trends in a different light.Unfortunately, _Magnificent Malevolence_ fails to take full advantage of Lewis' premise. Rather than focusing on the human failings of the present age, which might have provided more original insight, Wilson burdens the demon Crumblewit with a very narrow survey of social and religious (primarily Christian) trends over the past 60 or 70 years. For the most part, this material provides no surprises. It's hard to dispute that the good intentions that pave the road to Crumblewit's Hell can be twisted and distorted in many of the ways described, but they're nothing new; humanity has been falling into those same basic errors for centuries now, if not longer. Yet, today's world indulges in new forms of error, in my opinion (or at least, old errors in new skins), and I would have preferred to see the author take on some of those.The material that is presented seemed to become repetitious as Crumblewit flitted from one scheme to another. Perhaps this stands as a good commentary on Hell itself, which is the antithesis of progress, but it serves less well to advance the narrative.
Review by DuffDaddy
16/06/2015
I'm giving Derek Wilson two stars in my review mostly because it takes a lot of balls to write a self-proclaimed "sequel" to the masterpiece Screwtape Letters. To openly draw comparisons to one of the arguably greatest writers of all times is either very brave or very foolish. When held against Lewis' classic, Magnificnet Malevolence is flat, repetive and derivative. Wilson is doing what has already been done, but not nearly as well. Unlike in Screwtape, the criticisms in M.M. are too obvious to be impactful (internet porn is endorsed by the devil - who knew?) and the themes are too broad to be personal (mega-churchs are more about show than carrying on Jesus' missions- shocking!). Lewis had the awareness and skill to record the little things individuals do to each other everyday that are devilish. As a result, we can change our behaviors and become better. Wilson's attempt at this fails because his scope is too big and historic. I'm sorry to continuosly compare this work to Lewis', but by putting Screwtape on the cover, Wilson asked for it. In a vacuum, Wilson's work would be ok, but he begged comparisons (and sales) with his cover art. As such, the work fails.