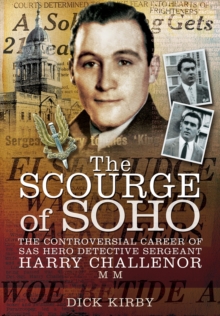 The Scourge of Soho : The Controversial Career of SAS Hero
Hardback
Description
Detective Sergeant Harry Challenor is undoubtedly one of the most controversial policeman of all time. Born into grinding poverty in 1922, Challenor served with the prestigious Special Air Service during World War Two, was parachuted behind enemy lines, was captured twice, escaped twice and was awarded the Military Medal for his bravery. Joining the post-war Metropolitan Police, Challenor began his one-man crime crusade. After four years with the elite Flying Squad, Challenor was sent to London's West End to clear up crime in Soho. Pimps, racketeers and crooks were rounded-up and often found themselves in possession of a bewildering assortment of armaments of which they denied all knowledge. More sensible gangsters, like Reg and Ron Kray, took off as soon as his name was mentioned. A reward of GBP1000 was offered by the gang leaders to anyone who could successfully bring sufficiently damaging allegations to have Challenor transferred, but in the end, it was not needed. During a political demonstration in 1963, half-bricks were planted on innocent protesters which resulted in three young policemen being imprisoned and Challenor was certified as being a paranoid schizophrenic and sent to a succession of psychiatric hospitals and care homes. Policeman-turned-author, Dick Kirby, has interviewed former friends and colleagues of Harry Challenor and has meticulously studied court records and official documents to write the sensational and extraordinary story of the man whom became The Scourge of Soho.
Information
Format: Hardback
Pages: 224 pages, Illustrations
Publisher: Pen & Sword Books Ltd
Publication Date: 27/11/2013
Category: True crime
ISBN: 9781781593509
Other Formats
Paperback from £9.49
EPUB from £5.76
PDF from £5.76
Free Home Delivery
on all orders
Pick up orders
from local bookshops
Reviews
Showing 1 - 1 of 1 reviews.
Review by atticusfinch1048
16/06/2015
The Scourge of SohoDick Kirby who has written about the life of the late Harry Challenor who was known as The Scourge of Soho in this true crime biography helps to bring the life and times of the West End of London and inparticular Soho. This is the Metropolitan Police at one of its darkest periods, when corruption, fit ups were part of the skill set required by detectives and nowhere was this more in evident than in Soho. Quite apt when one thinks how today the landowners of Soho are gentrifying and moving some of the murkier parts out of the area. If alive today and wandering those streets he would not recognise the place that he was trying to clean up. Kirby has researched this biography well and there is no holding back or trying to hide various elements of Challenor's life that some may judge to harshly in today's opinionated world. We get to see the hard life Challenor had as the child of a First World War Veteran and also his war record in the service of the SAS during the Second World War. How after the war he joined the Metropolitan Police and ended up working the Soho beat.We see Challenor working to clean Soho up in the face of extreme resistance from many of the "faces" of the late 50s and 60s who found that he was not interested in corrupt payments and came to put a bounty on his head to get him out of their way. That bounty would never have to be paid to any criminal as it would be an anarchist cartoonist that would be the downfall of Challenor and many around him and causing many quashed convictions.There are many questions that Met Officers of the time should be made to answer such as how with mental health problems Challenor was left isolated and allowed to pervert the course of justice. To some extent I do have sympathy with this version of Challenor and his life I doubt we will ever find the full truth but Kirby has made an excellent attempt to remove the veneer that history has left and this is an excellent book for all those fascinated by London in the 60s.