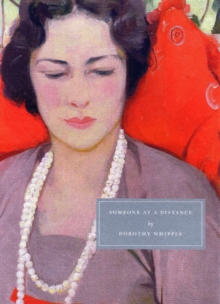 Someone at a Distance
Paperback
Information
Format: Paperback
Pages: 432 pages
Publisher: Persephone Books Ltd
Publication Date: 24/04/2008
ISBN: 9781906462000
Free Home Delivery
on all orders
Pick up orders
from local bookshops
Reviews
Showing 1 - 5 of 7 reviews.
Previous | Next
Review by rainpebble
16/06/2015
I fell in love with my first (knowingly) read of a Persephone. I am hoping that all of the Persephone I go on to read will have this quality of writing.Ellen and Avery live a busy but quiet life in the English countryside with their two children and with Avery's mother living not far away. Grandmama feels sorry for herself that she is not anyone's number one since the passing of Grandpapa and her children's reaching of adulthood with lives of their own. Ellen tries to visit a couple of times a week but this is not enough for Grandmama, who answers an advertisement in the paper for placement of a French young lady looking for work as companion/light housekeeping sort. Her letter to the young French lady is simply one of several but it is the position the French girl chooses to accept.As the story moves on we learn that said young French lady has come from a background of shopkeepers but has had a secretly & extensive love affair with a young gentleman from a very good family in the village. When it comes time for him to marry however, he must choose a young lady of 'higher breeding', which angers our slutty French girl. So she leaves her village for this English position thinking that she will go out into the world, make something better of herself and come back and show him!When our slutty French girl arrives in England she does everything for the Grandmama to make her happy and needful of her attentions. However she appears rude and distanced from everyone else. The daily help cannot abide her and even Grandmama's family raise their eyebrows though they are very happy that Grandmama is happy. She is so happy in fact that when she passes unexpectedly she leaves our slutty French girl 1,000 pounds along with her furs and jewels. Slutty French girl decides she must remain the 3 months or so that it will take for the paperwork, probate, etc to all come to a conclusion so she can take possession of her monies and goods. She helps the family to clean out Grandmama's house (where the help will not allow her to remain so Ellen mistakenly takes her in) and sends box after box of things to her parents in France, even down to the draperies.While living with Avery and Ellen our slutty French girl gets bored and goes on the hunt after their son, Hugh, who is home on holiday from the Army. He doesn't like it and attempts to avoid her at all costs to the point of rudeness. At one point he out to the stable to make some shelving for his younger sister Ann who is off at school. He wants to surprise her with someplace to put her horse's brushes and gear, but he is mainly attempting to get away from slutty French girl. Avery comes upon slutty French girl making a play for his son and becomes very angry with her and tells her to keep away from Hugh so she provokes him by telling him: Why? You don't pay any attention to me.So guess what? EeeYup, our slutty French girl goes all out after Avery who after a while weakens a bit and finally one day Ellen, his wife and Ann, his daughter come upon the two of them locked in an embrace on the settee. Ellen and Ann are both shocked and when Ann leaves, Ellen tells her husband that our slutty French girl must go and go now.And the story goes on from there only to get better and better. The only fault I can find with this book is that the very last bit is just a smidge too tidy.This book is beautifully written and the characters are wonderfully drawn. One even comes to not like, but to understand our slutty French girl. I love, love, loved the writing in this book and can't wait to read another by Dorothy Whipple. I gave it a 5 star rating very highly recommend it.
Review by dablackwood
16/06/2015
This is not a book for those who like action and suspense. Rather it is a book for a cozy afternoon tucked under a blanket. The story is an ageless one. A young woman sets her sights on a married man and in the process of getting him almost destroys three families. You are invited by the author to learn of the events and how the characters involved are affected. It moves slowly but is without much fanfare. Simply a story well told. I liked it very much and will look for others in the Persephone Collection.
Review by herschelian
16/06/2015
Someone at a Distance is the story of a marriage and it's destruction. In this day and age an all too common tale. However Dorothy Whipple gives such a beautifully gentle depiction of the strengths and weaknesses of marriage that despite the book being written 50+ years ago it seems very modern in someways. The feelings and emotions of the various parties involved in the break-up of the twenty year marriage of Ellen and Avery North ring as true today as they would have done when the book was written. T'he effect of marital break-up and loss of trust felt by the children is wonderfully illustrated. This book is a classic.
Review by startingover
16/06/2015
The story is a little slow to get going, but enthralling once it gets into its stride. Although the situation itself is banal (a husband having a fling), it's a tribute to Whipple's skills as a storyteller that the novel is a riveting read. [Dec 2004]
Review by KayCliff
27/08/2015
What a dreary book! 413 solemn pages about a few cardboardcharacters to bring us the astonishing message that adultery is a bad thing.
Also in the Persephone Classics series | View all