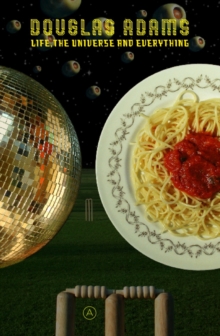 Life, the Universe and Everything
Paperback
Description
In consequence of a number of stunning catastrophes, Arthur Dent is surprised to find himself living in a hideously miserable cave on prehistoric Earth.
However, just as he thinks that things cannot get possibly worse, they suddenly do.
He discovers that the Galaxy is not only mind-boggingly big and bewildering but also that most of the things that happen in it are staggeringly unfair.
VOLUME THREE IN THE TRILOGY OF FIVE.
Information
Format: Paperback
Pages: 208 pages
Publisher: Pan Macmillan
Publication Date: 08/03/2002
Category: Science fiction
ISBN: 9780330491204
Other Formats
Paperback from £6.65
EPUB from £7.19
Hardback from £10.99
Free Home Delivery
on all orders
Pick up orders
from local bookshops
Reviews
Showing 1 - 3 of 3 reviews.
Review by jorgearanda
16/06/2015
The third book of the Hitchhiker series leaves behind the satirical vignettes format of the previous two books in favor of a bland makeshift plot about saving the galaxy. Featuring cricket and some annoying, unsatisfying prose.
Review by catfantastic
16/06/2015
You have to admire a book that answers the question of life, the universe and everything.Of course it can't _also_ give you the question, because if both the ultimate question and the ultimate answer were to exist in the same reality, they would cancel each other out and take the universe with them._Life, the Universe and Everything_ is another delightful joy-ride through the galaxy, full of the same zany exploits and laugh-out-loud humor as the first two books in the series, the _Hitchhiker's Guide to the Galaxy_ and _Restaurant at the End of the Universe_. It opens with Arthur Dent screaming - but not to worry, it's just his everyday first-thing-in-the-morning screaming which he does every time he wakes up and remembers where he is - stranded on prehistoric Earth, living in a cave. He kills a rabbit and makes it's skin into a pouch to carry interesting stones in, and then finally decides he's had enough of this sort of life and resolves to go mad. Just then Ford Prefect, his alien friend who can never seem to desert Arthur for long, shows up, with a plan to get them back to their own time via eddies in the time stream."Oh, he is, is he?" asks Arthur, on whom the entire concept is completely lost.Nevertheless, after chasing a Chesterfield sofa through a meadow, Ford and Arthur manage to travel through time and wind up at a cricket game on present day Earth (or Earth a few days before it's destruction at the opening of _Hitchhiker's Guide_.) Arthur is overjoyed at finally being home again, but it doesn't last long as lethal white robots from the planet Krikkit attack them. It turns out the planet Krikkit has been waging a bloody war against the rest of the universe, trying to kill everyone, and that the game cricket is really the result of a sort of genetic memory past down through the human race (which the rest of the galaxy believes to be in very bad taste.) Arthur and Ford are reunited with Slartibartfast and reluctantly join him on a quest to save the universe from the planet Krikkit and its vendetta against all of creation.Trillian, Zaphod and Marvin all return to take part in the adventure. As well, _Life_ introduces a series of hilarious new concepts, such as Slartibartfast's space ship which runs on "Bistromathic Drive" - on the premise that math used in a restaurant is so wildly different from any other kind of math used anywhere else in reality that when harnessed, it is, in fact, capable of powering and directing a space ship. There is also an immortal alien who has made it his mission to personally insult every living being in the galaxy in alphabetical order, and another alien with a very big grudge against Arthur Dent. Remember the bowl of petunias from _Hitchhiker's Guide_? Remember the poor rabbit Arthur skinned to make a pouch for collecting interesting stones in? There's a problem with the whole reincarnation thing, and this is it.As with all of Adam's books the writing is cheerful and fun, full of hilarious turns of phrase and analogies and moments of clever insight. This book is a fantastic conclusion to the story started in _Hitchhiker's Guide_, and the next book in the series, _So Long and Thanks for All the Fish_, is the perfect coda (but more on that later.) One of my all-time favorites, 5/5 stars.
Review by fothpaul
16/06/2015
I still really like this series, but I feel like as it has progressed it has become just a series of loosely interconnected amusing events woven together. The adventures of the characters are funny to read about and there are lots of witty points about life and humanity sprinkled throughout the books. Despite this it has taken me progressively longer to get through each book and I'm not hankering to read the next straight away.