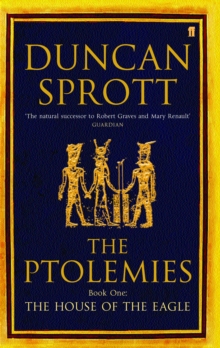 House of the Eagle : Book One of the Ptolemies Quartet
Paperback
Description
The House of the Eagle begins Duncan Sprott's 'Ptolemies Quartet', an epic and ingenious restoration of the dark and glittering story of ancient Alexandria and the Greek Pharaohs of Egypt, whose extraordinary dynasty spans twelve generations from the death of Alexander the Great to the fall of Cleopatra.
Narrated by Thoth, the ibis-headed Egyptian god of writing and wisdom, this book details the rise of the shrewd Ptolemy I from ordinary soldier of Macedon to Satrap of Egypt, and his coronation as Pharaoh and a god in his own lifetime.
A triumph of historical salvage, The House of the Eagle brings vividly to life the most bizarre family that ever existed.
Information
Format: Paperback
Pages: 480 pages
Publisher: Faber & Faber
Publication Date: 03/03/2005
Category: Sagas
ISBN: 9780571219179
Free Home Delivery
on all orders
Pick up orders
from local bookshops
Reviews
Showing 1 - 1 of 1 reviews.
Review by TheAmpersand
16/06/2015
I consider myself a fully documented citizen of the new millennium and a dedicated reader of twentieth century fiction, so "The House of the Eagle" isn't the sort of book I'd usually pick up. Still, when I learned that it was actually narrated by Thoth, the ibis-headed Egyptian god of writing, well, curiosity got the best of me. While I can't say that it converted me to the cause of historical fiction, it is, in certain ways, a rewarding read. Sprott's research on the period is, as you might expect, exhaustive, and he's particularly good with the small stuff: he knows what his characters ate, how they dressed, the gods they worshipped, the spells they cast and the music, literature, history they knew. He knows, in other words, how his royal protagonists saw the world, and the picture he paints, filled with magic, intrigue, and genuinely weird folk beliefs, belies the popular conception of Greek culture as supremely logical and level-headed. Most importantly of all, from a reader's point of view, he's a skilled enough writer to translate this vast store of knowledge about the period into a necessary sense of immediacy, of "being there." I can't think of a better reason to read this sort of book than to be transported in exactly this way. Sprott also knows that he's got some good material to work with. Save for Cleopatra, who arrived much later, I don't think that the Greek royals of Egypt have gotten the sort of publicity that their Egyptian counterparts have, and the book jacket isn't lying when it describes the Ptolomies as one of the strangest families that have ever existed. The book is filled with entertaining, outsize personalities like the vengeful, intelligent Arsinoë Beta and the impulsive, violent Keraunos. Sprott does, however, overplay his hand in a few places: the book is probably longer than it needs to be, and it's a bit heavy on the foreshadowing, even if the book's final acts are as shocking and bloody as anything available on cable television today. His prose is, as mentioned earlier, detailed and, in places, appropriately purple, but it sometimes borders on bombastic. Still, I suppose that I knew what I was getting into: a slightly puffed-up narrative voice might be unavoidable when the narrator in question is an Egyptian god.