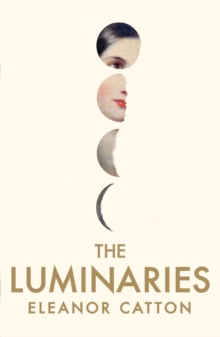 Description
It is 1866, and Walter Moody has come to make his fortune upon the New Zealand goldfields.
On arrival, he stumbles across a tense gathering of twelve local men, who have met in secret to discuss a series of unsolved crimes.
A wealthy man has vanished, a whore has tried to end her life, and an enormous fortune has been discovered in the home of a luckless drunk.
Moody is soon drawn into the mystery: a network of fates and fortunes that is as complex and exquisitely patterned as the night sky.
The Luminaries is an extraordinary piece of fiction.
It is full of narrative, linguistic and psychological pleasures, and has a fiendishly clever and original structuring device.
Written in pitch-perfect historical register, richly evoking a mid-19th century world of shipping and banking and goldrush boom and bust, it is also a ghost story, and a gripping mystery. It is a thrilling achievement and will confirm for critics and readers that Catton is one of the brightest stars in the international writing firmament.
Information
Format: Hardback
Pages: 832 pages
Publisher: Granta Books
Publication Date: 01/08/2013
ISBN: 9781847084316
Free Home Delivery
on all orders
Pick up orders
from local bookshops
Reviews
Showing 1 - 5 of 9 reviews.
Previous | Next
Review by bcquinnsmom
16/06/2015
(read December, 2013)I pre-purchased this novel before its UK publication date; when searching out new books last year I took one look at the blurb and instantly fell in love with the premise. Once I cracked open this massive tome, I fell into one of the most intriguing reads ever and I remember thinking at the outset that it reminded me quite a bit of the work of Wilkie Collins by way of Charles Dickens, two writers whose works I continue to read over and over. However, the more I got into it, the more I realized that this was something very different. Two things stood out for me here: first, the novel's originality; second, the author's incredible storytelling ability.There is absolutely no very good way of describing the plot, so I will offer only a brief look. Arriving by ship in a small goldrush town in New Zealand in 1866, young Walter Moody has seen something that shakes him to his core. He takes up residence in one of the town's hotels, and one night wanders into a group of twelve men who have the strangest stories to tell. At first all but one are reluctant; as time goes on, however, a startling tale emerges that has to do with a hermit who dies, leaving an estate being contested by a previously-unknown wife, a missing man, an opium-addicted prostitute who has, it seems, tried to kill herself, and a sea captain with a habit of taking on other people's identities. As their respective stories capture Moody's attention, he realizes that his own shipboard experience may have a connection to this fantastic collage of stories. But wait -- as soon as the reader thinks he or she has some or most of this crazy puzzle figured out, things have a way of transforming into something completely different. Like the era, the goldfields and the people who inhabit this novel, your sense of stability while reading this book often finds itself in a bit of turmoil.I noticed in particular one major theme running throughout this novel: fortune. While there are others as well, this one for me was the most visible. It's here in gold mining, chance, and fate; here fortunes are won, fortunes are lost, and fortune works as an agent of transformation. There's so much in this book, none the least of which is a fine old-fashioned, Victorian-style mystery and adventure story at the novel's heart; there's also a look at a volatile, wild-westish period in New Zealand's history. The sense of time and place that accompanies this peek into the gold-rush era is well crafted, starting with the first page. And along with the story, there's the innovative structure: it took me a while to figure out what was going on, but once I figured it out, I was absolutely delighted with the author's innovation and originality. You can read other reviews if you want to know ahead of time; my suggestion would be to pay close attention to all of the little charts at the beginning of each section. Part of the fun, I think, is in realizing exactly how clever the author is here. And that's clever in a good way, unlike some books where sometimes clever is a turn off.I loved, absolutely LOVED this book -- it's probably one of the few times in my reading life that after the end of the last page, instead of breathing a sigh of relief that an 800+ page novel had finally come to an end, I wanted more. Reader responses have been from "best book I've ever read," to "snoozefest, couldn't get past the first chapter," so they vary. It is the perfect book, even for the casual reader -- here, the story itself will sweep you up and take you along for an incredible and rollicking ride.
Review by kidzdoc
16/06/2015
'There's no charity in a gold town. If it looks like charity, look again.'This astonishing historical novel opens in Hokitika, New Zealand in 1866, a gold mining town along the West Coast of the South Island. Founded two years previously, Hokitika is in the midst of a population boom, as prospectors, hoteliers and other businessmen have flocked there after news of its vast riches and promise of easy wealth has reached people living within and outside of New Zealand. One of those men is Walter Moody, a young Englishman who is trained in law but seeks gold to provide him with material comfort and the start of a new life. He arrives in town after a harrowing and emotionally distressing voyage at sea, and after he checks in at a local hotel he proceeds to its smoking room, where he hopes to unwind with a pipe and a stiff drink. Upon his arrival he notices that 12 men are already there, who appear to be from different backgrounds but also seem to have gathered in secret for a particular reason. The atmosphere in the room is tense and troubled upon his entry, but in his agitated state Moody doesn't sense that he has disturbed them. He is approached by one of the men, while the others appear to direct their attention toward their conversation, and after slowly gaining their confidence the men begin to share their intertwined stories with Moody, and the reason for their confidential meeting. The story is centered around several mysterious and apparently interconnected occurrences that took place two weeks previously on a single night, including the death of a hermit in a shack overlooking town, the disappearance of a young man who has struck it rich in a gold mine, and the apparent near suicide of the town's most alluring prostitute. Every man in the room claims to be innocent of any direct involvement, yet they all appear to share some responsibility in the events that led up to these crimes, and each one fears that he may be accused and held accountable.The reader learns more about these 12 men, Moody, and several other key players, as the story takes on a more defined shape. However, just as it seems to become more clear new twists arise and relationships emerge between previously unconnected characters, which made the tale more compelling and delightfully puzzling. I exclaimed out loud numerous times at various points ("Wait, what?" "Whoa!", etc.), and except for one relatively dead spot near the novel's midway point I was captivated from the first page to the last.No review could adequately convey the intricacy and complexity of this novel, along with its numerous subplots and themes, and Catton's ability to maintain its momentum through 832 pages was akin to a performer riding a fast moving rollercoaster while juggling various objects of different sizes for hours on end. My biggest critique is its ending, which felt rushed and overly tidy, and despite its length I would have preferred for it to have been extended by another 50-100 pages.The Luminaries is a masterful literary symphony, and a work of historical fiction that compares favorably with similarly superb novels such as The Children's Book, The Stranger's Child and The Glass Room. There are few books of this size that I would love to start reading again immediately after finishing it, but this is one of them, and young Ms Catton is to commended for a brilliant novel that should be a strong contender for this year's Booker Prize.
Review by pierthinker
16/06/2015
A masterly study in character development and the interaction of ordinary people caught up in events they do not fully understand. People only ever see a small part of the lives and motivations of others and have to shape their own responses and actions against this imperfect information. In 'The Luminaries' we see this played out across many different characters over a short space of time. Catton clearly shows how good and bad become muddied and our sympathies shift as our understanding of the events we see and hear about deepens. Exceptionally long and requiring great concentration to master, I do not hesitate to recommend this book to students of the human condition. I understand the novel is shaped around an astrological chart, but frankly this was way above my head and did not disturb my enjoyment.
Review by miss_read
16/06/2015
Very disappointing for a Booker winner. Little character development, leaving the reader to muddle through dozens of men, seemingly all very similar. She obviously writes women better than men, or perhaps it's that there were fewer female characters so it was easier to differentiate between them. All in all, it was a jumbled story with a needless astrological gimmick thrown in perhaps only to show off the author's cleverness. Too tricksy by half.
Review by overthemoon
16/06/2015
Set in New Zealand in goldrush days, the book seems very well researched with reference to buildings, shipping, clothing, prospecting, prostitution, opium eating and so forth, and partly epistolary, partly astrological, partly 19th-century in style (for instance with damn written d___n). We are presented with a mystery of a death, an attempted suicide, fraud, disappearing crates, usurpation of identity, all of which gradually unravel themselves. The book has an original structure, going round and round, each circle treading on previously visited ground but picking up new threads of evidence on the way, speeding up with ever-shorter chapters towards the centre of the spiral until it reaches the centre which is the end of the book but also the middle of the story. If that sounds complicated, it's because it is. There is a lot of repetition, as you see things from a different perspective and the same events related by different people. I'm sorry to say that the leitmotiv of astrology and charts at the beginning of each chapter seemed gimmicky and contrived, and was completely lost on me; if it had not been there I would not have missed it, and I'm sorry if there was some inner meaning that passed me by. I would have been quite happy if the tale were told in a more straightforward way; the book would have been shorter, less unwieldy, lighter to heave around and more comfortable to hold (it takes some effort to hold the pages open; wrist supporters would be welcome). I would also have liked to know more about the background of some of the characters before they came into the book, Anna and Emery in particular. They do not really have any depth.