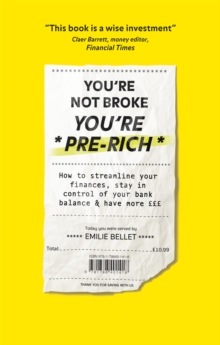 You're Not Broke You're Pre-Rich : How to streamline your finances, stay in control of your bank balance and have more GBPGBPGBP
Paperback / softback
Description
"This book is a wise investment"Financial Times "A marvellous money manifesto" Helena Morrissey DBE, financier & founder of 30% clubOne out of three millennials today will never be able to buy their own house.
Does it have to be like this? You're Not Broke You're Pre-Rich will tell you that it really doesn't; you can have your avocado on toast and stop renting and start saving too.
In this book you will learn how to :Rent smartBuy a homeGet a better salaryManage a credit cardUnderstand your net worth / credit scoreSave more moneyLive within your budgetBuild a pensionInvestPay off your debt foreverThis essential handbook will help debunk the financial jargon and break the money taboo.
Packed with actionable tips and no-nonsense practical advice, You're Not Broke You're Pre-Rich will teach you how to make your savings work for you, how you could invest your money, why you need to understand your pension and why your financial health is just as important as your mental and physical health. This indispensable manual will be your comprehensive guide to financial freedom, giving you the confidence and conviction to regain control of your bank balance and live a happier, richer life.
Information
Format: Paperback / softback
Pages: 384 pages
Publisher: Octopus Publishing Group
Publication Date: 28/05/2019
Category: Online finance & investing
ISBN: 9781788401418
Free Home Delivery
on all orders
Pick up orders
from local bookshops