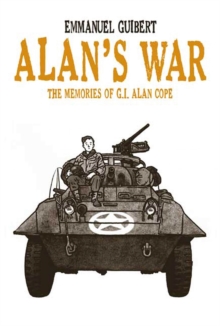 Description
"When I was eighteen, Uncle Sam told me he'd like me to put on a uniform and go off to fight a guy by the name of Adolf.
So I did."When Alan Cope joined the army and went off to fight in World War II, he had no idea what he was getting into.
This graphic memoir is the story of his life during wartime, a story told with poignant intimacy and matchless artistry.
Across a generation, a deep friendship blossomed between Alan Cope and author/artist Emmanuel Guibert.
From it, Alan's War was born a graphic novel that is a deeply personal and moving experience, straight from the heart of the Greatest Generation a unique piece of WWII literature and a ground-breaking graphic memoir."
Information
Format: Paperback
Pages: 292 pages, chiefly col. Illustrations
Publisher: Roaring Brook Press
Publication Date: 28/10/2008
Category: True stories
ISBN: 9781596430969
Free Home Delivery
on all orders
Pick up orders
from local bookshops
Reviews
Showing 1 - 5 of 10 reviews.
Previous | Next
Review by cainmark
16/06/2015
One man's recollection of his wartime experiences, filtered through his own point of view, which touches on universal themes pretty well. The drawings are perfect for this story as they are not overly detailed so the reader can almost vicariously experience the same thing Alan Cope experienced for himself.
Review by owenre
16/06/2015
Who knew? I saw this and picked it up in idle curiousity, without opening it and brought it home. It languished, as books acquired by whim sometimes do, but I picked it up on the way out the door yesterday to look at while I was waiting at the veterinarian. And then I came home, got in bed and finished it. I somehow did not realize it was a graphic novel. I was startled at the freshness of the drawings and loved the sober, straight story. This man Alan Cope was at first a sort of vague, unformed kid who is drafted after Pearl Harbor, experiences the stiff and rapid maturation process of military service in wartime and emerges at the end of the book as a man I would have love to have met. This is not the war of movies or novels. He is not the veteran of the VFW, but his experiences in the war are so profoundly a part of the man he became. It is not a monumental work, but it is an excellent book that will bring the war experience home to many of us, literary or artistic, who cannot see ourselves in the adventures, histories or movies of WWII battle scenes.
Review by yeremenko
16/06/2015
This is beautifully drawn and well written story. The problem is it is not all that interesting. The protagonist joins the army but never hears a shot fired in anger. His post war life would be fascinating if you met him at a dinner party but does not have the weight to carry a graphic novel.
Review by pattijean
16/06/2015
I found out about this graphic novel after reading The Photographer, also by Guibert. Guibert randomly became friends with WWII veteran Alan Cope, who began telling him war stories. So Guibert put this novel together to illustrate Cope's memories. I loved the simplicity of Guibert's art - simple lines, greys. And his writing style was great - it made you feel as if Cope was right there talking to you about everything.
Review by mikerr
16/06/2015
This episodic memoir gives a great picture of an everyman who gets drafted into Uncle Sam's army and winds up in Europe. If you want shoot-em-up heroics, look to Marvel. This is a quiet achievement - I feel like I know and like Alan and wish the book was longer.
Also by Emmanuel Guibert