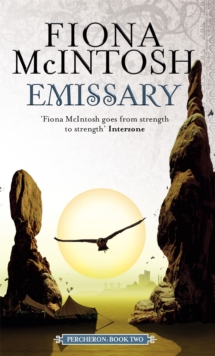 Emissary : Percheron Book Two
Paperback
Description
Odalisque Ana is resigned to life in Percheron's famed harem and has little more than a blood-soaked veil to remind her that Spur Lazar, the man she loves, is dead.
What's more, she is closely watched by the scheming Grand Master Eunuch, Salmeo, and the cunning and cruel Valide Herezah.
The Valide, unhappy at Ana's influence over the young Zar, contrives a shrewd plan to bring about the beautiful young woman's demise.
But greater forces are at work . . .The demon Maliz has taken the guise of Percheron's Grand Vizier in order to stalk Iridor, the traditional accomplice of the Goddess. And a war is brewing. A long-time enemy, Galinsea, intends to exact a vicious blood price for the death of its crown prince, Lucien, at the hands of the Percherese. And the only person in the Stone Palace who can undertake the dangerous journey to Galinsea and negotiate for peace is about to die . . .
Information
Format: Paperback
Pages: 576 pages
Publisher: Little, Brown Book Group
Publication Date: 24/01/2008
Category: Fantasy
ISBN: 9781841494616
Free Home Delivery
on all orders
Pick up orders
from local bookshops
Reviews
Showing 1 - 3 of 3 reviews.
Review by lewispike
16/06/2015
This book skips ahead more or less a year from the end of Odalisque. This allows Boaz to grow wiser, Maliz to ingratiate himself with Boaz and Lazar to recover, at least mostly, from the poison.Ana continues to rebel in the harem, but is beloved of Boaz. The Valide and Chief Eunuch conspire to remove her, seemingly successfully. Everything is thrown into disarray by the arrival of two emissaries from Galinsea, here to check whether Lazar is really dead, and if he is to declare war.Under all of this, and often overlooked by several of the people that are going to be key players you suspect, although in the forefront of Pez's mind all the time, is the upcoming battle for the return of Lyana. He is sure that it's Ana, and it seems so, but Maliz can't sense Lyana in her which casts doubt on it.There is a frantic, and dangerous, trip across the desert to end the book, which ends with Ana captured and Lazar protecting Hezerah and Maliz somehow... a choice that is the first one I'm not sure I can see him making.As I commented about her last book, the underlying story is quite familiar, although the world and the setting is still nicely developed. This avoids most of the clichés of a middle book, and handles the remaining ones smoothly and skillfully and leaves me looking forward to the final book in the series.As a complete aside, I've come back to "traditional" fantasy after a splurge of "urban fantasy" and it's nice to come back to the longer books, the bigger scale, and the potentially world changing stories rather than the somewhat cramped, local and personal scale of the latter genre.
Review by wyvernfriend
16/06/2015
Definitely a mid-series read, this tells the story of Odalisque Ana and her finding a place in the Harem of Boaz. She has to watch herself as there are forces who can see that she has charisma and intend to ensure that she is controled.She thinks her true love is dead but he isn't he's recovering from the dreadful punishment he has. His past is coming to reap it's revenge and he has to do what he can to survive.Meanwhile the demon is finding his place, and trying to discover who has reincarnated as Lysana this time.This was quite a slow starter for me and it's more about character growth than much happening, still I found it interesting.
Review by infjsarah
27/08/2015
I struggled with this book in that I got bored about half way through and put it down for a few days. I did go back to it and it improved a lot toward the end and got more interesting. There is an unexpected twist right at the end which bodes better for the final book. But I didn't find myself caring for any of the characters much.
Also in the Percheron Series series | View all