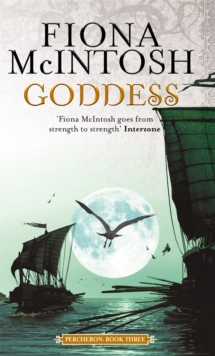 Goddess : Percheron Book Three
Paperback
Description
Zar Boaz is preparing for the imminent arrival of the Galinsean fleet and it seems inevitable that the realm will be plunged into war.
His only hope is to use Lazar as a bargaining chip but despite the necessity for him to be in the city for the negotiations, the Spur is determined to travel back to the desert to rescue the abducted Zaradine Ana and bring her home.
However, finding Ana will not be a simple task. She is being held by the despotic Arafanz and his fanatical followers and as it slowly becomes clear what the presumed madman plans for Percheron, Ana does not know if she is to survive ... and if she is, to what end? In the meantime a much larger doom hovers over Percheron that no-one but Pez and his nemesis, the charismatic Grand Vizier Tariq, understands.
The chaos between the neighbouring realms could become irrelevant when the final confrontation for the region's faith is played out.
Information
Format: Paperback
Pages: 592 pages
Publisher: Little, Brown Book Group
Publication Date: 05/06/2008
Category: Fantasy
ISBN: 9781841494623
Free Home Delivery
on all orders
Pick up orders
from local bookshops
Reviews
Showing 1 - 3 of 3 reviews.
Review by wyvernfriend
16/06/2015
The end of the series, Zar Boaz is preparing for the Galinsean war fleet, Spur Lazar is determined to stay with his adopted country, to rescue Zaradine Ana and to keep alive. The Grand Vizier Tariq is working at winning the war he has been embroiled in for centuries. There are a lot of varied characters in this but I didn't find that there were enough voices. It's interesting but I didn't engage as much as I wish I could have. Not a bad read or a bad conclusion but not as good as it possibly could have been.
Review by lewispike
16/06/2015
I found myself disappointed with this book. And I'd really quite liked the first two books.Part of that was that for the most part the characters failed to surprise me, even the parts that were supposed to surprise me (like the Emperor being on the barge) didn't, I just felt they were obvious.That said I also felt obscurely let down because although the Goddess wins (good), and she wins in a peculiarly Daoist fashion (also good) this totally undermines the build up in the story, and left me feeling cheated at the time, and still (over a week later) unsatisfied.It's an ending, and it's workmanlike, but uninspired which is a shame.
Review by infjsarah
27/08/2015
I liked the final book better than the middle one but it wasn't a great book. All that build up and the final defeat is in a brief epilogue. Plus I never really cared about any of the characters. A lot of them die in the book and I really didn't care much. A great book is where you cry when a character dies - this just doesn't do it. Not terrible but ultimately rather disappointing.
Also in the Percheron Series series | View all