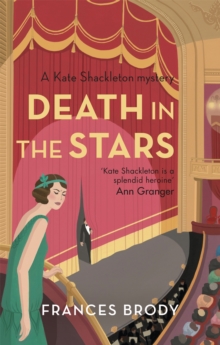 Death in the Stars : Book 9 in the Kate Shackleton mysteries
Paperback / softback
Description
'Frances Brody has made it to the top rank of crime writers' Daily MailYorkshire, 1927.
Eclipse fever grips the nation, and when beloved theatre star Selina Fellini approaches trusted sleuth Kate Shackleton to accompany her to a viewing party at Giggleswick School Chapel, Kate suspects an ulterior motive. During the eclipse, Selina's friend and co-star Billy Moffatt disappears and is later found dead in the chapel grounds.
Kate can't help but dig deeper and soon learns that two other members of the theatre troupe died in similarly mysterious circumstances in the past year.
With the help of Jim Sykes and Mrs Sugden, Kate sets about investigating the deaths - and whether there is a murderer in the company. When Selina's elusive husband Jarrod, injured in the war and subject to violent mood swings, comes back on the scene, Kate begins to imagine something far deadlier at play, and wonders just who will be next to pay the ultimate price for fame . . . Praise for Frances Brody's Kate Shackleton series:'Frances Brody matches a heroine of free and independent spirit with a vivid evocation of time and place . . . a novel to cherish' Barry Turner, Daily Mail'Brody's excellent mystery splendidly captures the conflicts and attitudes of the time with well-developed characters' RT Book Reviews'Kate Shackleton is a splendid heroine' Ann Granger'Kate Shackleton joins Jacqueline Winspear's Maisie Dobbs in a subgroup of young, female amateur detectives who survived and were matured by their wartime experiences.
As self-reliant women in a society that still regards them a second-class citizens, they make excellent heroines' Literary Review'Frances Brody skilfully holds our attention, making us want to read on and then look forward to the next Kate Shackleton mystery' Gazette & Herald'Kate Shackleton is a delightful leading character.
The flavour of post First World War England is beautifully portrayed.
An enjoyable and gripping mystery story' CrimeSquad.com'The author keeps us highly entertained with an interesting and exciting plot, impeccably researched, and a style of writing that has the reader turning the pages eagerly to discover the truth of the mystery.
Francis Brody is fast becoming "the queen of light crime fiction"' Gazette & Herald'This is whimsical, colourful stuff and readers will warm to the entrepreneurial yet fragile Kate' Take a Break'Refreshing and highly entertaining, especially for the winter nights' Gazette & Herald
Information
Format:Paperback / softback
Pages:400 pages
Publisher:Little, Brown Book Group
Publication Date:05/10/2017
Category:
ISBN:9780349414317
Also in the Kate Shackleton Mysteries series | View all