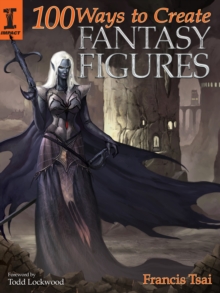 100 Ways To Create Fantasy Figures
Paperback
Description
This book presents 100 exciting and ingenious ways to design and draw better fantasy figures: from developing the characters to adding costumes, props and backdrops. Hollywood concept designer Francis Tsai shares tips and tricks for creating imaginative figures, giving readers a unique opportunity to gain guidance from a real pro.The images use an inspirational mix of styles and approaches, with influences ranging from Celtic, Greek, Roman, Oriental and Medieval to 19th Century Gothic. The accessible layout, with a stiking image and accompanying text on each page, provides a sourcebook of key approaches and techniques - perfect for artists and illustrators who want bite-sized information that will make a real difference to their work.
Information
Format: Paperback
Pages: 128 pages
Publisher: F&W Publications Inc
Publication Date: 01/10/2008
Category: Drawing & drawings
ISBN: 9781600611193
Free Home Delivery
on all orders
Pick up orders
from local bookshops
Reviews
Showing 1 - 1 of 1 reviews.
Review by Sparrowlicious
27/08/2015
You might wonder "why only 3 stars?". I'll tell you the answer: Francis Tsai should've used his own advice and learn more about the human body. All his male characters are hulk-like in proportion when it comes to their upper and lower body. All his female characters look exactly the same, have bad poses (did this guy ever try standing the way he places his female characters? Probably not! He even has the gall to call a typical back stretching exercise (which you usually do when lying down) a 'relaxed stance'. What the heck?), extremely bad anatomy (hip size too small in relation to shoulders), etc.<br/>Secondly: He only applied his good poses and ideas to his male characters. His female characters were all super boring or simply pin-up models. No action there. So if you follow the advices in this book - and many of the ideas really were good - you should also apply them to your female characters. Draw your female characters in amazing poses, give them amazign stories! Oh and also: breast cup armour? People who still draw that need to be hit in the sternum really hard.
Also by Francis Tsai