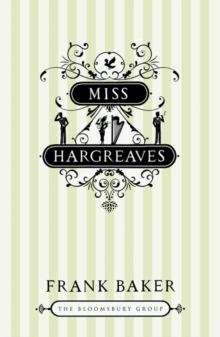 Miss Hargreaves
Paperback
Description
When, on the spur of a moment, Norman Huntley and his friend Henry invent an eighty-three year-old woman called Miss Hargreaves, they are inspired to post a letter to their new fictional friend.
It is only meant to be a silly, harmless game - until Miss Hargreaves arrives on their doorstep, complete with her cockatoo, her harp and - last but not least - her bath.
She is, to Norman's utter disbelief, exactly as he had imagined her: enchanting, eccentric and endlessly astounding.
He hadn't imagined, however, how much havoc an imaginary octogenarian could wreak in his sleepy Buckinghamshire home town, Cornford.
Norman has some explaining to do, but how will he begin to explain to his friends, family and girlfriend where Miss Hargreaves came from when he hasn't the faintest clue himself?
Will his once-ordinary, once-peaceful life ever be the same again? And, what's more, does he want it to? Miss Hargreaves is part of The Bloomsbury Group, a new library of books from the early twentieth-century chosen by readers for readers.
Information
Format: Paperback
Pages: 336 pages
Publisher: Bloomsbury Publishing PLC
Publication Date: 06/09/2009
Category: Classic fiction (pre c 1945)
ISBN: 9781408802823
Free Home Delivery
on all orders
Pick up orders
from local bookshops
Reviews
Showing 1 - 5 of 6 reviews.
Previous | Next
Review by gaskella
16/06/2015
Norman and his friend Henry are on holiday in Ireland. They duck into a church to shelter from the rain and the sexton gives them a grand tour after they pretend to know of the old vicar. On the spur of the moment, Norman invents a close friend of the vicar's family, an 83 year old lady whom they know too, called Miss Connie Hargreaves – this makes the dour sexton's day. Norman & Henry then continue to have fun with her, composing and sending off a letter to the hotel where she's staying inviting her to visit Norman at home in Cornford. Imagine the surprise then, when a few days later, Norman receives a telegram saying that she will be with them soon. Mild panic ensues – she can't be real – they made her up! However nothing would keep them from the station platform at the allotted time – just in case.Miss Hargreaves proceeds to enliven things in the sleepy Buckinghamshire cathedral town of Cornford. Norman is junior organist and she soon gets him into trouble by making him pull out all of the stops, but then she gets in with the Dean. She has a habit of getting Norman into tricky situations and to get out of them he has to invent more back story for her. Everything he says about her takes on a life of its own and things are beginning to get a bit much for him especially as she treats him as her dearest friend and won't leave him alone. All these shenanigans make his mother exasperated, his girlfriend furious, and alienates his best friend Henry too; meanwhile Norman's father Cornelius, a bookseller and dreamer seems to understand but is too detached to react. This is where the novel, which had been light and full of farce, starts to get rather dark as Norman starts to plan how to get rid of this tiresome woman, but it's not straight-forward as he has developed an attachment to her. Norman is a capable and loyal young man who is totally thrown out of his comfort zone, (think of a young Peter Davison), and panics. He has a big problem to resolve and at first can't work out how to make her go – or rather let her go. When he finally works it out, he becomes strong, but the memories of Connie echo on... Published originally in 1939, this novel was transformed into a successful play after the war starring Margaret Rutherford, inspired casting. Having read this in the introduction, it was hard to imagine any other image of Miss Hargreaves – prounounced Hargrayves, not Hargreeves by the way, explained in a cheeky author's note. Connie may be the star of the book, but she has a strong supporting cast in Norman, Henry, and assorted clerics; but my favourite was Cornelius, a classic absent-minded professorial type who always veers off the subject when anyone talks to him.This novel was delightful from start to finish, full of high farce, real comedy moments and surprising pathos, and the dark edge later provides real tension. A tremendously satisfying read. Like all those lovely reissues from Persephone Books I can't wait to read more of these rediscovered gems from The Bloomsbury Group too.
Review by 2chances
16/06/2015
Another Bloomsbury book! I liked this one better; it has a rather Jeeves and Wooster sensibility about it, which is NOT my favorite thing, but there is also a dreamlike quality aabout the novel which is quite appealing. The wretched protagonist, Norman, is a cheerful young man who is unfortunately prone to making up stories; his stories are awash with a wealth of detail that defintely adds verisimilitude. And sometimes, alas, he goes too far. In a horrid little church in Ireland, Norman and his friend Henry, chatting up the verger, invent their dear old friend Miss Hargreaves, an elderly lady who used to know the deceased pastor of the church. Delighted with their creation, they go so far as to write a letter to the phantom lady, inviting her to visit Norman's Buckinghamshire home. The next thing they know, Miss Hargreaves is at the train station, parrot and pug in tow, ready for a visit with her dear, dear boy Norman.Miss Hargreaves is a curiously endearing old trout with definite ideas of her own that cause her creator no end of misery. Norman's incurable habit of tweaking his Galatea by adding random details to her history adds fun to the story; but what I found most charming were the faint hints that Ms. Hargreaves herself senses that she is not quite like other people, that she doesn't wholly control her own destiny. Not great literature, certainly; but I actually found the ending quite poignant. I'm pretty sure this is not available in the US yet; if you want to read it, check amazon.uk.com.
Review by whitreidtan
16/06/2015
During a trip to Ireland, Norman Huntley, lay-clerk chorister and student organist, and his mechanic friend Henry stop in to tour a less than impressive church, as much to escape the rain as for any interest in the edifice itself. But on the tour given them by the sexton, they not only feign interest, they create out of whole cloth an elderly friend of theirs who had once been an intimate of the late, beloved vicar. Not content to throw out a made-up name (Miss Connie Hargreaves), they also endow their creation with any number of ridiculous eccentricities and oddments. The farce entertains them long after they leave the church and on a whim, they send a letter, inviting Miss Hargreaves to visit Norman in his home town of Conford, to the hotel they've decided she always removes to for that month of the year. As the entire thing is started as a lark, it is a little startling when Norman receives a telegram telling him when to expect Miss Hargreaves. It's beyond startling when Miss Hargreaves actually turns up, exactly as Norman and Henry have imagined her.Miss Hargreaves, as she's imagined, starts to cause all sorts of stress for Norman within his family, in his job, and especially with his girlfriend. Worse yet, whenever there's a disturbance in the town, Norman can almost be assured that his Miss Hargreaves is behind it. And no one believes Norman when he tries continuously to explain that he made this strange, elderly woman up. Even Henry thinks that Norman has pulled a fast one on him. The only person who might believe Norman is his dreamy, distracted father, who seems to agree that the power of creation is enormous right before he drifts back off into his own world.Norman is torn between being proud and slightly fond of his creation and wanting her to disappear entirely. But because he can't help but preen a bit, Miss Hargreaves feels snubbed and gaining in power, starts to create her own story, shucking off Norman's control entirely. And that is when bad things start to excelerate for Norman.When I first read the description of this one, I was intrigued by the different sounding treatment of the Pygmalion myth and thought it was likely to be a gentle, sweet, and charming story (not that the original was either, mind you). But right from the beginning there is a sense of menace as Norman alludes to his being suspected of a crime despite there being no evidence. And as Miss Hargreaves grows and changes throughout the story, the sinister sense grows and certainly outpaces any light heartedness that tried to peek its head up. The tension builds, desperation becomes palpable, and the power of creation is acknowledged in this beautifully clad Bloomsbury Group re-issue of the 1939 novel. If I had had different expectations going into the novel, I might have liked it more than I did as it is really well written, starting out blurried and slowly coming into focus to shock the reader. I am still sorry it wasn't what I had expected but it's hardly fair to judge the book on my dashed expectations and I think that many other readers will appreciate it quite a lot.
Review by ElizaJane
16/06/2015
Reason for Reading: I love British literature written during the first half of the 20th century and all the books reprinted in The Bloomsbury Group sound delightful.Summary: Norman Huntley and his friend Henry are visiting an old church and while speaking to the keeper, on a lark, they invent an eighty-plus old woman, Miss Hargreaves, giving her quite an eccentric character, a cockatoo, and a bath she takes with her everywhere. Still having a good laugh they write a letter to this fictional character at the hotel where they've got her staying on her travels. The lark takes a downward spiral when they receive a reply back and shortly afterwards Miss Hargreaves arrives in the village complete with cockatoo and bath. She latches onto Norman like a dear, long lost friend and Norman's once sedate life as choir member, organist and bookstore helper turns upside down with the havoc created by the imaginary but very real Miss Hargreaves.Comments: This book is simply put, a pure delight! Though written in 1940, the story is set sometime prior WWII and with an offhand remark about WWI we can surmise the story takes place in the 1920s or early 30s. The wonderful British village life filled with a variety of characters is a joyful story. Miss Hargreaves is a most eccentric character and her appearance turns the conventions of the town topsy-turvy. She descends upon Norman and completely takes over his life with her devotion. Creating episode after episode within the village and church community Baker's novel starts off as a hilarious farce. But when Norman can't take it anymore, close to losing his girlfriend, he tells Miss Hargreaves he's done with her and she can do as she like. This causes Miss H. to disappear for some weeks and Norman realizes that he's become a bit fond of the old girl. When Hargreaves returns she's not the woman she was before, she snubs Norman, puts on airs and her former escapades are completely forgotten as she becomes the new centre of the village's society.Norman and Miss Hargreaves's relationship is a wonderful story. I often felt it compared to that of a parent and a child, with Norman taking the parental role since he 'created' Miss Hargreaves. Miss H. starts off as the doting child thinking Norman is the centre of her universe then after an argument she turns into the defiant teenager who ignores Norman and does what she wants. At this point Norman realizes the feelings he has for Miss H. are genuine and he loves her as a parent; he tries to make her see reason and is forever turned away, banging his head against a wall, and yet he keeps returning for more as his love is coupled with responsibility. While the story is filled with whimsy, there are also to be found great moments of pathos and the ending will tug at your heart strings.Both Norman and Miss Hargreaves are astounding characters. While they appear to be at odds for the majority of the book, there are profound moments that they share together sometimes through speech and other times simply through a shared look. They are very compelling characters not soon to be forgotten. The secondary characters are also full of life from Norman's little sister Jim, who taunts him frequently, to the church's righteous Dean, who is a bit too full of himself, to Norman's scatterbrained bookstore owner father, to Henry, the one who helped Norman create Miss Hargreaves yet can't quite believe it isn't all some trick.A delightful book, highly recommended to fans of British cozies. The author wrote fifteen novels and I certainly wouldn't mind trying another.
Review by Kasthu
16/06/2015
Miss Hargreaves is a novel of pure fantasy. Norman Huntley is a young man who lives in the cathedral town of Cornford and possess quite an imagination. As his father says to him, "Always be careful, my boy, what you make up. Life's more full of things made up on the Spur of the Moment than most people realize. Beware of the Spur of the Moment. It may turn and rend you." This novel is all about what happens when Norman forgets these words of advice.It all happens one day when Norman and his friend Henry visit a church in Ulster and make up an eccentric elderly woman in her 80s named Constance Hargreaves. It all seems like harmless fun—until Miss Hargreaves actually comes to Cornford and begins to wreak havoc on Norman's life.At first I thought this was a charming novel—I liked Miss Hargreaves herself a lot. But as I continued to read, I thought that the joke got to be a bit wearisome after a while. After a while I found myself resenting Norman—he tries to ignore Miss Hargreaves or otherwise treat her badly pretty much throughout the book. He's also incredibly dismissive of people from his real life, such as his parents or girlfriend. Call me cynical or whatever, but I just didn't sympathize with him. The plot doesn't seem to move anywhere for a while. As such, the book could probably have been cut down to the length of a novella instead.
Also in the The Bloomsbury Group series | View all