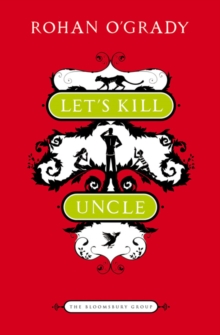 Let's Kill Uncle
Paperback
Description
When recently-orphaned Barnaby Gaunt is sent to stay with his uncle on a beautiful remote island off the coast of Canada, he is all set to have the perfect summer holiday.
Except for one small problem: his uncle is trying to kill him.
Heir to a ten-million-dollar fortune, Barnaby tries to tell everyone and anyone that his uncle is after his inheritance, but no one will believe him.
That is, until he tells the only other child on the island, Christie, who concludes that there is only one way to stop his demonic uncle: Barnaby will just have to kill him first.
With the unexpected help of One-Ear, the aged cougar who has tormented the island for years, Christie and Barnaby hatch a fool-proof plan.
Playful, dark and witty, Let's Kill Uncle is a surprising tale of two ordinary children who conspire to execute an extraordinary murder - and get away with it.
Information
Format: Paperback
Pages: 288 pages
Publisher: Bloomsbury Publishing PLC
Publication Date: 05/07/2010
ISBN: 9781408808573
Free Home Delivery
on all orders
Pick up orders
from local bookshops
Reviews
Showing 1 - 3 of 3 reviews.
Review by ElizaJane
16/06/2015
A mistake people may make with this book is assuming that with the two main characters being ten years old that the book is going to be *for* children. Well, it most certainly is not. Barnaby and Christie are the focal characters and the action surrounds them but it is the secondary adult characters whom the reader is given more insight into their personalities, their backgrounds, what makes them tick. This is a Gothic story, quite morbid, and everyone has a tragic story, but there is black humour to lighten the load and even though a Hollywood horror movie was filmed of the book, there is a certain tongue in cheek aura to the whole thing. This book is certainly not going to be for everyone but with my delight in the macabre I found it entirely enchanting. Evil Uncle is the villain, but all the "good guys" have their foibles or a certain something that makes them unlikable and yet I couldn't help but be charmed by them all. And I loved the ending; it was a big "Ha!" and I thought it was funny; though some readers may find it annoying. So not for everyone but I was very much taken with this macabre, quirky tale.
Review by vanderschloot
16/06/2015
This was an old-fashioned and strange little novel. It reminded me quite a bit of A High Wind in Jamaica, one of my favorite books of all time, but this book was not quite on that level. Let's Kill Uncle has a similar sadistic humor and utter lack of sentiment in its depiction of children.
Review by Brennagh
16/06/2015
Originally published in 1963, this novel tells the story of two bright, devious, difficult children sent to a small, remote island off the coast of Vancouver, Canada, for their summer vacations around the early 1950's. It is hard to characterize this fascinating book. At first it appears to be a charming tale of how the boy and girl grow and evolve after being exposed to the fine denizens of this island and, indeed, this is part of the narrative. The more intriguing plotline is how the children spending their unsupervised time befriending a cougar (who acts as one of the narrators) and plotting the murder of the boy's uncle because they are convinced that the uncle plans to murder the boy. The author really delivers on atmosphere and characterization. Rohan O'Grady manages to mix true darkness with a charming whimsicality. I couldn't put it down.
Also in the The Bloomsbury Group series | View all