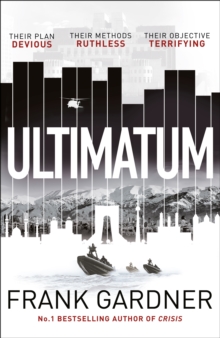 Description
Deep within a cave system at Parchin, an Iranian military complex 30 kilometres south-east of Tehran, and hidden from the prying eyes of Western surveillance satellites, scientists are hard at work on a secret device. They are acting on the orders of a renegade group within the hardline Iranian Revolutionary Guards Corps, dismayed at their government's recent overtures to the West.
Their work contravenes the international nuclear pact, and aims to propel Iran into the elite club of nuclear-armed nations, provoking chaos in the Middle East and threatening the West's oil supplies. Britain's MI6 Secret Intelligence Service know something is up - they have an agent in deep cover inside the programme.
But to hand over his information face-to-face he needs to get out of Iran by crossing the border into Armenia. And so Luke Carlton, now a fully-fledged SIS officer, heads to a remote Armenian monastery to debrief him.
But the mission goes bloodily wrong. Luke has to be extracted, leaving two dead bodies behind him.
Then an opportunity to recruit someone with close personal access to the leader of the IRGC hardliners arises - and Luke, eager to redeem himself, is chosen to bring her in.
Going into Iran undercover is dangerous enough, but the nightmare begins when a senior British government minister on an official visit is kidnapped, his close protection officer killed and Britain presented with a terrifying ultimatum.
It seems the Iranian hardliners have the upper-hand, unless Luke Carlton - on the ground, on his own and unsure who he can trust - can turn the tables. And he's got less than 48 hours in which to do it... From the mountains of Armenia, to the deserts of Iran, from MI6 operations rooms to the salons of Abu Dhabi, the crowded cafes of Tehran and finally the underwater world of a Royal Navy submarine in the Strait of Hormuz, Luke Carlton is embroiled in a pulse-pounding race against time in Frank Gardner's explosive and frighteningly realistic new thriller.
Information
Format: Hardback
Pages: 320 pages
Publisher: Transworld Publishers Ltd
Publication Date: 02/11/2017
Category: Espionage & spy thriller
ISBN: 9780593075814
Save 23%
Free Home Delivery
on all orders
Pick up orders
from local bookshops