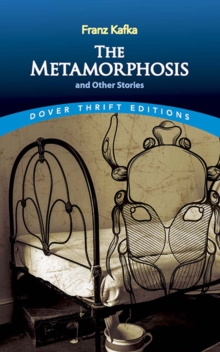 The Metamorphosis and Other Stories
Paperback
Information
Format: Paperback
Pages: 96 pages
Publisher: Dover Publications Inc.
Publication Date: 12/04/1996
Category: Classic fiction (pre c 1945)
ISBN: 9780486290300
Other Formats
Paperback from £2.50
Leather / fine binding from £12.45
EPUB from £1.94
PDF from £1.94
Free Home Delivery
on all orders
Pick up orders
from local bookshops
Reviews
Showing 1 - 4 of 4 reviews.
Review by jolee
16/06/2015
I love "The Metamorphosis" and have read it several times. I know some people probably think I'm crazy. (My friend, Natalie, said she could never get over the giant bug thing.) Personally, I love the weirdness of the Modernist period.
Review by StuartAston
16/06/2015
I brought this book to see if I would like Kafkas writing before buying The Trail. Didn't really work as I ended up buying both at the same time!I liked this book as a prelude to the trail and I will not be dissapointed as there is that level of wierdness I like in books in his style.The short stories though did not work for me. You just start to get into it and they stop - he needs a whole book to work through the ideas here not 20 or 30 pages tops. The only story that really seemed to come to a natural end was The Metamorphosis.But as I said it was a look see for the book I really wanted to read by him. And in that case it was a success!
Review by bderby
16/06/2015
In Kafka's "The Metamorphosis," Gregor Samsa awakes one morning to find himself transformed into a giant insect. The theme of personal transformation is clear and the items which are obvious metaphors (e.g. Samsa being an insect, the apple lodged in his back), will allow students to explore what their intended meaning could have been.This book also includes "The Judgement," "In the Penal Colony," "A Country Doctor," and "A Report to an Academy."
Review by AuntieClio
16/06/2015
Kafka is weird. There, I said it. And I usually like weird, but I'm still not quite sure what to think of Kafka. In a discussion with a friend about themes, it became a bit easier to read. I didn't have problems with the bug, or the killing device as much as I did with the characters' reactions.When I mentioned that the ending in "The Judgement" felt kinda clunky, my friend said, "That's the thing about Kafka. He gets a free pass because he's Kafka. The ending is clunky, but because he's Kafka, people wonder if they're missing something."Note to self: Kafka is not god, his work is not perfect. (Weird, but not perfect.)In "The Metamorphosis," one of the themes is being worthwhile. This poor man works hard to support his family, but in return, they and the bureaucrats he works for believe him to be nothing more than a "bug." And all anyone can do is be horrified that he can no longer work and treat him even more poorly."In The Penal Colony" was horrifying. Not because of the actual killing device, but is pretty horrific on its own, but for the attitude of The Officer toward crime and punishment. 30 years later, George Orwell published Nineteen Eighty-Four. The extreme belief that anyone showing any humanity towards others is weak, haunts us every day. On a light note, if there is one, I kept hearing Sylvester Stallone in "Judge Dredd" saying, "I AM the law" whenever The Officer spoke about how The Condemned had come to be condemned. It's a pretty damning statement against government (being published the year after WWI ended), dictatorships and those who stand by and do nothing.As for "The Country Doctor" and "A Report to the Academy," well, those were more of the same weirdness.In sum, I'm not sorry I read this. Not sorry, but not necessarily glad. I can now say I've read Kafka and understand what the meaning of the word "Kafkaesque" is. I don't need to read any more.
Also in the Dover Thrift Editions series | View all