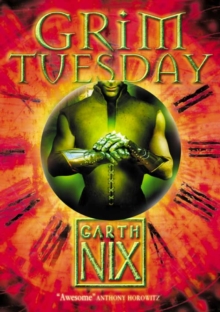 Description
Second title in Garth Nix's gripping new fantasy adventure series.Arthur Penhaligon didn't think he would ever have to return to the strange house that nearly killed him on Monday - the house that contains a fantastical and sinister realm inside.But the next day brings new challenges - in the form of an enemy named Grim Tuesday, who threatens the safety of both Arthur's family and his world.
Arthur must retrieve the Second Key from Grim Tuesday in order to save everything - an adventure that will force him to steal a Sunship, survive a very weird work camp, befriend a bearlike spirit and fight the void Nithlings.Even after all that, he will still have to venture into the scary Far Reaches for an ultimate showdown.
Information
Format: Paperback
Pages: 400 pages
Publisher: HarperCollins Publishers
Publication Date: 07/06/2004
Category: Fantasy
ISBN: 9780007175031
Free Home Delivery
on all orders
Pick up orders
from local bookshops
Reviews
Showing 1 - 3 of 3 reviews.
Review by kw50197
16/06/2015
Grim Tuesday's domain was far more depressing and there's less action in this book. But still an enjoyable read.
Review by shanaqui
16/06/2015
Reading this series back to back is definitely better than the piecemeal way I was reading them when I read them as they came out (briefly as that lasted). There's no space between the books -- minutes at best between the end of Mister Monday and the beginning of Grim Tuesday. So it's nice to read them in one go. (It's also nice to read them on the appropriate days. I'll be greatly amused if I can keep that up all week.)<br/><br/>I didn't remember this book as well as Mister Monday, but I'm pretty sure I did read it. The same applies to this book re: the pace, the fun-ness, the lack of true emotional connection... It might be more helpful to think of this series as one long book split up into seven: so far that's true, anyway, but we'll see.<br/><br/>I'm interested by the reversal of the magical healing of Arthur: often, if characters have some kind of disability, it's handwaved away. People think that it only makes sense, things are easier plot-wise that way. But with Arthur, Garth Nix went out of his way to reverse that.<br/><br/>I loved the inclusion of the Mariner, and the slight reference to his background, which doesn't wave it around shouting, "Look! Clever literary reference! Look at meeee!". I love that he's related to the Piper, and whose son he is. I hope he comes into it more later, and I hope more is revealed about what his parents are/were like...
Review by isabelx
27/08/2015
There were railway tracks behind the desk, only ten yards away but unseen until. Arthur tripped over the first rail. Inspecting them with the lantern, Arthur saw they were made of some dull metal that looked like bronze, and they were set very wide apart, at least eight feet, which he thought was a wider gauge than any railway back in his world. The rails ran on stone sleepers rather than wood or concrete, and the rubble under and between the sleepers was of some strange material that was the shape and color of wood chips but was very heavy and hard — perhaps another kind of light stone.Although he expected to be left alone to live his life for the next 5 or six years, Arthur is drawn back to the House the very next day, when Grim Tuesday, who is in charge of mining Nothing in a great pit beneath the House, launches a legal battle against him since Mister Monday had not beein paying his bills. Still quite convoluted.
Also in the The Keys to the Kingdom series | View all