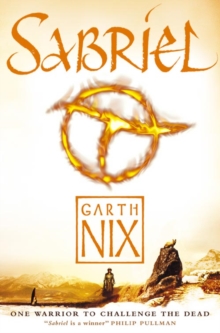 Description
Who will guard the living when the dead arise? Sabriel is sent as a child across the Wall to the safety of a school in Ancelstierre.
Away from magic; away from the Dead. After receiving a cryptic message from her father, 18-year-old Sabriel leaves her ordinary school and returns across the Wall into the Old Kingdom.
Fraught with peril and deadly trickery, her journey takes her to a world filled with parasitical spirits, Mordicants, and Shadow Hands - for her father is none other than The Abhorson.
His task is to lay the disturbed dead back to rest. This obliges him - and now Sabriel, who has taken on her father's title and duties - to slip over the border into the icy river of Death, sometimes battling the evil forces that lurk there, waiting for an opportunity to escape into the realm of the living.
Desperate to find her father, and grimly determined to help save the Old Kingdom from destruction by the horrible forces of the evil undead, Sabriel endures almost impossible challenges whilst discovering her own supernatural abilities - and her destiny.
Information
Format: Paperback
Pages: 368 pages
Publisher: HarperCollins Publishers
Publication Date: 06/05/2003
Category: Fantasy
ISBN: 9780007137312
Free Home Delivery
on all orders
Pick up orders
from local bookshops
Reviews
Showing 1 - 5 of 15 reviews.
Previous | Next
Review by tronella
16/06/2015
Hey look, more children's fantasy! I didn't like this so much, though... Sabriel's a bit Mary Sue-ish, and the whole thing with her falling in love with (spoiler) seemed a bit... I don't know, arbitrary?
Review by Skywolf
16/06/2015
Nope. Sorry, but this just didn't grab me. I'm told the next two are far better, and I really ought to try them, but as a stand-alone book, I'm really not sure what all the fuss is about. Yes, the premise was quite original, but I often had to force myself to read on in the hopes that it would improve. But it didn't. This probably works quite well as a childrens/young adults' book, but it didn't make good adult reading. I often enjoy books aimed at younger people, but sadly not on this occasion. It felt like Nix was trying to bridge the gap between adults' and childrens' literature, but without success. I found the characters largely flat and uninteresting, and the language very uninspiring. Shame, because I had high hopes. It was a fairly light-hearted, easy read, but it didn't wow me in the slightest.
Review by jauntyjinty
16/06/2015
Slow start, but a cracking read once it got going.
Review by Homechicken
16/06/2015
The Abhorsen trilogy, of which this book is the first, is targeted at a teen audience, but I didn't feel that at all. This book was a great read, and I can' wait to get started on the next one. There are some new, neat ideas I'd never read before, such as the hero being a necromancer. The split world of magic and technology isn't anything new (read Christopher Stasheff's Warlock series, Fred Saberhagen's Empire of the East trilogy and the Swords books, Roger Zelazny's Jack of Shadows—one of my personal favorites, etc etc). But all in all it is a well-written book, paced evenly enough with interesting characters.I don't know if it's the version I have, but the book uses British spelling, which sometimes is distracting. Not enough to take you away from the book, though.The ending was fast, the story just stopped. As soon as I finished it I wanted to pick up the next book, Lirael, but I have others in my book queue that have been waiting longer.
Review by arkgirl1
16/06/2015
I finished this book feeling slightly underwhelmed but not sure quite why as it does have much to enjoy:a fiesty heroine with a personal and 'for the good of the Kingdom' battles to win;intriguing companions with their own stories and backgrounds to discover;some interesting concepts with the Free magic and Charter magic - the bells and gates to death etc;and a plot that has pace and some exciting combat sequences.I think, for me, I struggled with the speed that Sabriel was introduced and then into the life/death situations without me feeling fully engaged in her battles. The landscape and rules are not very clear and I found myself regularly thinking 'oh isn't that convenient' when certain Charter magic was introduced and solved the problem. There are 2 more books in the series and I will probably get hold of them but I don't have the usual pull, that I get with fantasy series, to start reading the next book now!