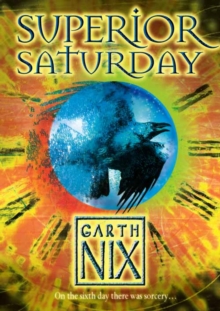 Superior Saturday
Paperback
Description
Garth Nix is back with the sixth explosive title in his gripping fantasy series, The Keys to the Kingdom. On the Sixth Day, there was Sorcery Arthur Penhaligon has wrested five of the Keys from their immortal guardians, the Trustees of the Will.
But gaining the Sixth Key poses a greater challenge than any he has ever faced before.
Superior Saturday is not just one of the Trustees, she is also the oldest Denizen and the most powerful and knowledgeable sorcerer within the House.
She has tens of thousands of sorcerers at her command - and she has been preparing her forces all along for the Will's escape and the activities of the Rightful Heir.
Everything is all just part of a greater plan she has been hatching for ten thousand years. As Saturday's schemes become evident, Arthur is beset on all sides.
Nothing is eroding the House, and only the power of the Keys can hold back the tide of destruction.
His mother is still missing. His home city is under attack. His allies are unreliable. He can't even get into the apparently impregnable Upper House and even if he does, finding the Sixth Part of the Will and gaining the Sixth Key might not be enough to counter Saturday's sorcerous hordes or stop her bid for ultimate power.
Information
Format: Paperback
Pages: 384 pages
Publisher: HarperCollins Publishers
Publication Date: 01/07/2008
Category: Fantasy
ISBN: 9780007175116
Free Home Delivery
on all orders
Pick up orders
from local bookshops
Reviews
Showing 1 - 2 of 2 reviews.
Review by kw50197
16/06/2015
An okay read within the series. Unfortunately, Arthur doesn't have much of a chance to battle any of Superior Saturday or her minions.
Review by shanaqui
16/06/2015
Eeek! Even less resolved than all the rest so far. We don't even really get to see Arthur's claiming of the key, here, and the pace is absolutely frantic. I was wrong, in my last review, about getting to see more of Leaf the more inhuman Arthur becomes. We didn't get to see much of her at all, here. In fact, I'm not sure we got to see much of anything in this book, somehow. I think I'd dock a star for that...<br/><br/>...if I wasn't enchanted by the re-emergence of Elephant. If there's anything that would keep someone human, it'd be a childhood toy. I'm pretty sure that's what my conscience would look like, if it were a separate being. I am kind of desperately hoping that that's what Elephant will do in the story. I actually had kind of a lump in my throat when Arthur picked up Elephant and cuddled him hard, even though it was just a tiny moment. (I hugged my own teddy tight in sympathy, and was terribly glad I have never lost her.)<br/><br/>One other thing I enjoyed especially about this book was Arthur's struggle between the part of him that is a Denizen (or something higher), and the part that is still a mortal. By this point, his mortality is seriously dwindling, but there's still enough of it to seriously fight against that influence.<br/><br/>I rather hope he loses the fight not to become a Denizen, but wins the fight to keep loving and caring, with the help of Elephant.<br/><br/>Oh, I was also pleased to see the Old One again, and I rather hope he does get free.
Also in the The Keys to the Kingdom series | View all