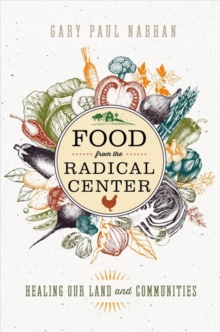 Food from the Radical Center : Healing Our Land and Communities
Hardback
Description
America has never felt more divided. But in the midst of all the acrimony comes one of the most promising movements inour country's history.
People of all races, faiths, and political persuasions are coming together to restore America's naturalwealth: its ability to produce healthy foods. In Food from the Radical Center, Gary Nabhan tells the stories of diverse communities who are getting their hands dirtyand bringing back North America's unique fare: bison, sturgeon, camas lilies, ancient grains, turkeys, and more.
Theseefforts have united people from the left and right, rural and urban, faith-based and science-based, in game-changingcollaborations.
Their successes are extraordinary by any measure, whether economic, ecological, or social.
In fact, therestoration of land and rare species has provided-dollar for dollar-one of the best returns on investment of anyconservation initiative. As a leading thinker and seasoned practitioner in biocultural conservation, Nabhan offers a truly unique perspective onthe movement.
He draws on fifty years of work with community-based projects around the nation, from the desertSouthwest to the low country of the Southeast.
Yet Nabhan's most enduring legacy may be his message of hope: a visionof a new environmentalism that is just and inclusive, allowing former adversaries to commune over delicious foods.
Information
Format: Hardback
Pages: 256 pages
Publisher: Island Press
Publication Date: 30/11/2018
Category: Food & society
ISBN: 9781610919197