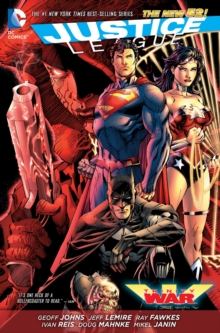 Justice League Trinity War HC (The New 52)
Hardback
Description
The event that the New 52 has been building towards since the beginning! #1New York Times best-selling writer Geoff Johns (Green Lantern, Batman:Earth One) brings together almost two years of plot threads here inJustice League: Trinity War.
When the three Justice Leagues go to warwith one another, who's side will everyone be on?
Allies will be born, friendswill become enemies, and the DC Universe will never be the same!
This hardcover graphic novel collects Free Comic Book Day 2012,Trinity of Sin: Pandora #1-3, Trinity of Sin: Phantom Stranger#11, Justice League #22-23, Justice League Dark #22-23,Justice League of America #6-7, and Constantine #5.
Information
Format: Hardback
Pages: 320 pages
Publisher: DC Comics
Publication Date: 01/03/2014
Category: Superheroes
ISBN: 9781401245191
Free Home Delivery
on all orders
Pick up orders
from local bookshops
Reviews
Showing 1 - 4 of 4 reviews.
Review by LaneLiterati
16/06/2015
Adam's Review (4 Stars) : Having experienced part of this story before in Justice League Volume 4, as well as knowing the end from seeing spoilers, nothing was incredibly surprising to me about this crossover. That doesn't mean it was not good, because it was. I really appreciated that this book contained a few of the side stories from the Trinity of Sin books, instead of only the parts from JL, JLA and JLD. The extra tales really gave the whole story a lot more depth. Rather than detail out the whole event here, I'll only comment on a few things. SPOILERS So, the Earth-3 Crime Syndicate (think Evil Justice League) has arrived in this continuity... but why kill off Sea King (evil Aquaman)? Aquaman has been a phenomenal title so far in the New 52, but killing off Sea King right from the start just feels like a slap in the face. And how does the whole "Forever Evil" event get started? Oh well, back to the books!
Review by Cataloger623
27/08/2015
Heroes try to put the 7 deadly sins back into Pandora's Box. A fun read. Deals with idea of sin in world without the concept of a law giver to say what is sin. This story sets up the next larger adventure where superheroes from an alternative but evil demension try to take over the Earth.
Review by aadyer
27/08/2015
Great fun, great art, with some references to Greek mythology & a twisting turning, roller coaster of a ride.
Review by wethewatched
27/01/2016
You know what? I enjoyed this one. Sure it suffers from a lot of the same problems most event comics do -- lots of superheroes yelling at each other and coming to blows, without a whole lot of character development -- but it was refreshing to step into the dark/magic side of the DCU for a change. The writing is pretty solid throughout, and the art is epic and clear. Sure the ending is just a setup for Forever Evil, but hey ... it's a comic book.