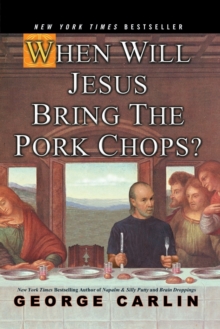 When Will Jesus Bring The Pork Chops?
Paperback
Information
Format: Paperback
Pages: 300 pages
Publisher: Hyperion
Publication Date: 19/10/2005
Category: Humour
ISBN: 9781401308216
Free Home Delivery
on all orders
Pick up orders
from local bookshops
Reviews
Showing 1 - 5 of 11 reviews.
Previous | Next
Review by comfypants
16/06/2015
Brain Droppings was one of my favorite books. Napalm and Silly Putty wasn't as good, but it was still funny. This was complete crap. There are maybe 50 (of 300) pages worth of funny things. Most of the book is taken up by an extended rant on one or two subjects, repeating the same point/observation over and over and over and over...
Review by 06nwingert
16/06/2015
I read this in 2008 after Carlin passed away. While reading, I remembered a television show, Thomas the Tank Engine, from my childhood, in which Carlin starred. <i> When Will Jesus Bring the Pork Chops </i> is Carlin's humorous and satirical take on religion, politics, and life in general.
Review by invisiblelizard
16/06/2015
Shortly after Carlin's death in 2008, I saw this book on the bargain shelf in the bookstore and picked it up out of pure sentiment to the memory of a once-great comedian who still entertained me in his twilight years, even though the edge seemed to have gone. Reading this book, I get more of the same: a warm feeling for a guy who made me laugh for decades, but nothing to lead me to believe he had new ground to cover. Some of this material I recognize from bits he'd done on late night talk shows and his stand-up routines. Other bits reminded me of things I'd read from him in the past. (Hasn't he done "euphemisms" to death already? Pardon the pun.) So it's with a heavy heart that I bid him farewell, and that same heart gives me the smile I have on my face as I flip back through this book now. It's an adequate book-end to a life spent dissecting the English language, but the real joy came a ways back in the stack (if you follow my metaphor).
Review by theresalee1980
16/06/2015
George is a funny man. I love his opinions on religion and love the fact he can make fun of himself. If you are easily offended, this is not the book for you.
Review by lchs.mrso
16/06/2015
George Carlin's When Will Jesus Bring the Pork Chops is an exceptionally humorous book for the open-minded person. It consists of a compilation of some of Carlin's better known comedy routines and some new material. Covering topics from religion and politics to how people speak the American language, Carlin's radical views become apparent in his amusing satire. Carlin's droll, extremely funny writing makes very evident his annoyance at one topic most discussed in this book: the increased amount of euphemisms that are employed in the English language. Carlin is unafraid to make known his controversial opinions on religion, politics, and everyday life, criticizing everyone equally. The title and front cover design are two examples of this; the jacket design is a picture of the Last Supper by Leonardo da Vinci, but with a twist: the addition of Carlin holding a fork and knife impatiently awaiting the arrival of "Pork Chops." Despite this bitterness, Carlin presents a funny, witty classic; a must-read for the freethinking reader.