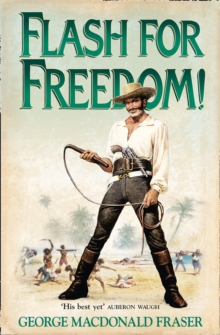 Flash for Freedom!
Paperback
Description
Coward, scoundrel, lover and cheat, but there is no better man to go into the jungle with.
Join Flashman in his adventures as he survives fearful ordeals and outlandish perils across the four corners of the world. A career in politics beckons for Flashman, until it's scuppered by a crooked game of cards.
Forced to flee London, Flashy journeys to America where he encounters an assortment of characters, including a New Orleans madam and a young Mr Lincoln...
Information
Format: Paperback
Pages: 384 pages
Publisher: HarperCollins Publishers
Publication Date: 01/02/1999
Category: Crime & mystery
ISBN: 9780006511274
Other Formats
EPUB from £7.49
eAudiobook MP3 from £6.79
Free Home Delivery
on all orders
Pick up orders
from local bookshops
Reviews
Showing 1 - 4 of 4 reviews.
Review by SeriousGrace
27/08/2015
If you are keeping track, this is the third installment of the Flashman papers "owned" by Mr. Paget Morrison. To recap the first two packets of papers (published in 1969 & 1970): Flashman has been expelled from Rugby School, served in the British army and survived a skirmish with Otto von Bismark. The third packet picks up in the year 1848 and seems to be initially edited by Flashman's sister-in-law, Grizel de Rothchild as the swearwords are heavily edited and the sex is practically nonexistent (unheard of for our Harry, but don't worry - it picks up!). This time Harry's adventure focuses on a trip to America (Washington and New Orleans) where he meets Abraham Lincoln, gets caught up in the slave trade (with the underground railroad and as a salve runner), and par for the course, nearly loses his life several times over. Once again, it's a woman who saves his bacon.
Review by jztemple
16/06/2015
The recent death of George McDonald Fraser has brought a close (maybe permanent, maybe not?) to this delightful series of books. I have had the pleasure of following this series every since the release of the first book back in the sixties. The Flashman novels combine history (including substantial endnotes) with sex, action, adventure and the secret pleasure of enjoying the exploits of one of the most notoriously popular non-politically correct characters of 20th Century literature. Flashman is a womanizer, a coward, a scoundrel and a cheat, but in the novels, which are all narrated by Flashman himself, he is utterly honest with his readers. He is a man not proud of his faults, but certainly unabashed about them.The Flashman novels could be dismissed as sensationalized light reading , but Fraser cleverly tied his character into most of the major events of the last sixty years of the nineteenth century, a Victorian Zelig or Forrest Gump. Flashman casually mentions this minor detail or that simple observation, then Fraser in his assumed role as editor of the Flashman papers meticulously explains in the endnotes how these mentions by Flashman confirm the truth of his narrative, since only if Flashman was there could he have known about this fact or that. Fraser's endnotes also round out the historic details of the narrative, giving background and elaboration to the history-as-I-lived-it tales told by Flashman. It all works wonderfully, even if you somewhat suspect that some details are being outrageously fabricated.I very strongly recommend these books to anyone who has an interest in history and is willing to keep an open mind towards the womanizing and the language (the n-word appears quite a bit, but completely in character for Flashman). I would suggest the best way to read them is in order of publication. This doesn't follow Flashman's own life chronology, but the books published later often make reference to previous editions of the "Flashman Papers" and so is more fun for the reader to follow.
Review by MrsPlum
16/06/2015
Discovering Flashman has been my highlight for 2010. Fraser's skills as a novelist and historian is such that he created a character who remains ultimately likeable, despite his treatment of women. There have been many such men in life – why not in art? Flash for Freedom in the first, and perhaps most disturbing, of the American Flashman adventures.
Review by jcbrunner
10/11/2015
Fraser's great naughty character Flashman presents a narrative of the whole slave trade from the British financiers to the source in the kingdom of Dahomey in Africa, the trans-Atlantic voyage, slave markets, New Orleans brothels, plantations and the underground railroad that transported slaves out of the United States to safety in Canada. As always, Fraser triggers interest in learning more about some of the characters and stories told. Especially the king of Dahomey and his Amazon warrior corps picked my interest. I also wonder whether in 1849, there already existed a distinct Texan accent (however unlikely it would have been for an upper class Englishman to fake it so convincingly to fool Southerners).True to the topic, the author uses one gimmick I wished he did not have made such frequent use: the n-word. In 1971, this might not have had the shock value it does now, but the contrast between censoring swear words and an abundance of n-words is off-putting.The quest for authenticity might have gone too far. Abraham Lincoln also emerges in a far better light than he was in reality. In 1849, his journey towards emancipation had only begun. He had always believed in the moral wrongness and inhumanity of slavery but his political views were pragmatic if not conservative. He was not a firebrand but often, quietly, leading from behind.Overall, an enjoyable read with very good pacing and stitching together of very different locations.
Also by George MacDonald Fraser | View all
Also in the The Flashman Papers series | View all