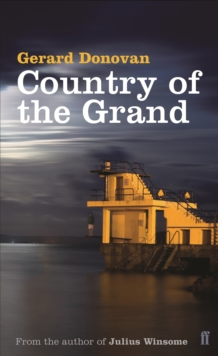 Country of the Grand
Paperback
Description
A young man driving across Ireland with his wife asks her how long she would wait before being with another man if he died.
A man is trapped, hidden, in a small changing room by the sea on Galway Bay, as he listens to his friends discuss his wife's infidelity.
An anguished young boy and his widowed mother struggle to reconstruct their lost father and husband in their own respective ways.
The stories in "Country of the Grand" magnify a New Ireland as it copes with the rewards and pressures of its fresh success: immigration, mid-life crisis, adultery and divorce, a lost sense of place and history, and of course, what to do with all that prosperity.
Information
Format: Paperback
Pages: 256 pages
Publisher: Faber & Faber
Publication Date: 01/08/2008
ISBN: 9780571235544
Free Home Delivery
on all orders
Pick up orders
from local bookshops
Reviews
Showing 1 - 4 of 4 reviews.
Review by monix
16/06/2015
I knew nothing of Gerard Donovan or his work when I opened this collection of short stories but I could tell immediately that he was an Irish poet. The language is beautifully lyrical and there is a meditative, sometimes mystical element in his descriptions of ordinary situations and events. There is also a measure of obscurity of meaning which one expects and accepts in poetry but not perhaps in the story form.Most of the stories in Country of the Grand are set in Galway. They show people dealing with change in their lives against the background of a changing Ireland. Relationships, bereavement, infidelity, abandonment and betrayal are themes running through the stories. Gripping stuff and yet my first reading left me disappointed; I found the characters unconvincing, I was unable to imagine them existing outside of the given scenario. Yet I felt there was something I was missing and realised that these were little snapshots of lives, like the dreams and imaginings of the characters in Under Milk Wood. I read the book again, this time hearing, rather than seeing the text and found it far more satisfying.In Morning Swimmers we watch and listen with Jim as his friends talk about him, not realising that he is there; through this overheard conversation we learn a little about Jim's wife and are left wondering about Jim's relationship with her, what kind of man he is and what he really means to his friends. Loyalty and infidelity are recurring themes in this and several other stories: How long until, Country of the Grand and Another Life.Loss and bereavement form the basis of several stories. In Glass, fourteen year old Paul has to come to terms with the sudden death of his father and to establish a new relationship with his mother. In The Summer of Birds it is a daughter who is left with her father when her mother leaves home. Another Life shows a grieving widow and The Receptionist a man unable to come to terms with his divorce.The collection is a mixed bag, some stories I did not like at all but there are a few gems, my favourites being By Irish Nights, which is as mystical as Irish storytelling can be, and The Visit, a moving encounter between a son and his dying mother.
Review by ablueidol
16/06/2015
Gerard Donovan is that cliché, an Irish writer with a poet's sensibility. His 2003 debut novel was Schopenhauer's Telescope: trucks arrive with frighten, crying villagers, one man digs a hole, one watches. The result is a stunning and moving discussion that covers everything from the life of Genghis Khan to what exactly, is a hole.In contrast, his recently published collection of short stories, Country of the Grand, uses musical and witty language to convey the lives of ordinary people in a changing Ireland. Morning swimmers, it's about the loss of old school friends becoming strangers but it's also about the compromises we make in marriage to keep the hope of love alive. A theme picked up in How long until when a man driving seeing a Life Assurance advert is prompted to ask, how long would you wait before you slept with someone so revealing marriage fault-lines. In other stories such as Shop lifting in the USA we discover the awful lie that the relationship is founded on or in Archaeologists see a relationship in its dying moments. In the Country of the Grand we follow, the events of one evening in the successful and empty live of a lawyer as he acts on the impulse of trying to find the landscape of his childhood. Many of the stories move from the thoughts and actions of the moment to a reflection of the past or as in Glass looking at the pain of a widow through the eyes of her accusing teenage son.Gerard Donovan is clearly a writer worth reading if you like poetic prose and imaginative stories based on intelligent thought. But the collection of stories suffer as any collection of short stories does by being a random collection of writing enjoyed in the moment of the train journey but once collected together the signature of the writer becomes that much more obvious so less startling or stimulating.Gerard Donovan use of language and imagery, hover between poems and prose,an good example of this is By Irish Nights . You circle over Ireland following road travellers over one night including those who won't return as this extract illustrates....But those three children. A small breath of water makes a sea of the lungs and sinks the breath.They found themselves after in languid palms that rested upright in the still water, and they hadn't drowned. They found themselves in hands sometimes covered in swans that floated, shaped in rain drops that shook the surface of the sky where it rested in the water, in the hold of a father as he taught them to walk, in a mother's patience as she fed them from spoons and dressed them for the morning. And then they found themselves at last, carved into the endless hearts that lost them, waking every night to sleep.Its an interesting paradox of our time that in the panic that we can only cope with flash-card writing, short stories are in long decline as we prefer the narrative depth of novels. However, these facts may not be in contradiction, as short stories as poetry require good writing and good reading (close attention to language and structure) to work. Read this collection and decide if its bad writing or poor reading that shapes its future.
Review by dudara
16/06/2015
I was pleased to receive another advance reading copy from Early Reviewers and I especially looked forward to this collection of Irish short stories. The blurb described it as a collection of short stories about modern Ireland. As any Irish person will tell you, Ireland has changed beyond recognition in the last 10 years, and I hoped that this collection of stories would attempt to encapsulate what currently is Ireland.I was a little disillusioned to read that the author lives in New York, and this feeling was compounded as I read the book. These are not a collection of stories of modern Ireland. They could belong to any era in any country. They are a set of stories dealing with loss, betrayal, aging and confusion. We have a man who overhears his friends discussing his wife's infidelity in a changing room, a solicitor trying to recapture his youth and a widow dealing with her late husband's hidden life.I didn't even find them particularly captivating or illuminating. It appears that the author is drawing on his own experience and feelings, but never finds a way to move from these emotions or indeed deal with them. It's a pity that these aren't a collection of stories more relevant to modern Ireland, and it's a greater pity that they're not particularly good.
Review by byzanne
16/06/2015
Other reviews have given a good overview of this collection of short stories.What I liked: glimpses of the inner lives of ordinary people. By Irish Nights was my favourite piece.What I disliked: the same tone throughout the collection, that of emotional disconnection, almost flat... It worked well within each story but in a collection, it was difficult for me anyway to keep reading, I felt almost overwhelmed by the mood. It would put you off getting married, or just trying to get close to another human being!Advice to potential readers: only read one story at a time, interspersed with some other fiction, so you are not as overwhelmed by the mood. But definitely worth reading.