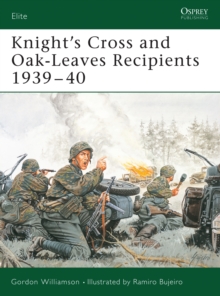 Knight's Cross Recipients : Knight's Cross and Oakleaves,1939-40 v. 1
Paperback / softback
Part of the Elite series
Description
On I September 1939 the Knight's Cross of the Iron Cross was created by Hitler.
It was the highest Third Reich award and could be distributed to all ranks within any branch of the Wehrmacht, Waffen-SS or the auxiliary services.
It could also be awarded a number of times. During the war new grades of Knight's Cross were added.
The Oakleaves to the Knight's Cross were introduced on 3 June 1940, and were the next highest grade above the original.
This book is the first of four books looking at the winners of the Knight's Cross, and covers Knight's Cross and Knight's Cross with Oakleaves winners from 1939-40.
Information
Format: Paperback / softback
Pages: 64 pages, 42ill.23col.ill.
Publisher: Bloomsbury Publishing PLC
Publication Date: 25/07/2004
Category: European history
ISBN: 9781841766416